Who Was Harold L. Drimmer?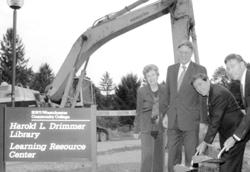 Harold L. Drimmer Library Ground breaking Courtesy
of The Joseph N. Hankin Presidential Collection
at the Harold L. Drimmer Library
Harold Lee Drimmer: Benefactor, Scholar, Author, Entrepreneur, Philanthropist
(1914–2005)
Harold L. Drimmer was an accomplished businessman and 26-year trustee of Westchester Community College. A former Mount Vernon resident and lawyer who later went into an eclectic mix of businesses, he was most proud of his contributions to Westchester Community College. As a college trustee and board chairman for 22 years, he worked to improve access to higher education by co-founding the Westchester Community College Foundation, which since its founding in 1969 has raised millions of dollars in support of college and student needs not covered by public funds.
Drimmer, an intellectual and a wordsmith, was the author of several books, including a history of Jews in Westchester, and was instrumental in supporting cultural activities at the college. In honor of his legacy, the College named the Harold L. Drimmer library after him when he retired in 1994.
Harold Drimmer graduated at age 16 as salutatorian from Mount Vernon High School and attended Harvard on a scholarship, graduating magna cum laude in 1935. After receiving a law degree from Columbia, he started a law practice with classmate Newton Gleckel. The longtime business partners later purchased a book printer and publisher and a school bus assembly company together. The school bus business, Divco-Wayne, eventually became the country's largest manufacturer of mobile homes. He and his first wife, the late Florence Robinson, raised their three children in New Rochelle and moved to Harrison in the early 1970s. He passed away at the age of 91 in 2005.
In 2012, his family established the The Harold L. Drimmer Scholarship presented to a student who has demonstrated academic excellence, financial need, and significant service to the College.
Courtesy The Journal News, December 2005
Adapted from Sadler, Liz. "Harold Drimmer, longtime WCC trustee, dies at 91," The Journal News: A.10. Dec 06 2005. Westchester Journal News (New York). Web. 16 Jan. 2013.