Computer Use
The library's computers are provided for the use of Westchester Community College students, faculty, staff, administrators, and the Westchester County community in support of education, research, academic, and administrative purposes. Unacceptable use is prohibited and is grounds for loss of computing privileges, as well as discipline or legal sanctions under Federal, State or local laws.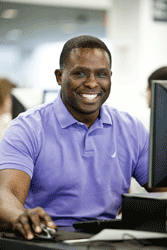 Computers in the open areas on the main floor and second floor of the Library have standard college networked software and selected specialized hardware and applications. They are intended for research or academic use and are available on a first-come, first-served basis.
The Harold L. Drimmer Library follows the Westchester Community College Computer Usage Policy. Users working on assignments have priority in their use. Users may be asked to give up their seat if they are not working on school or research assignments when there is a demand by other users who need to the computer for course or research work.
Office 365 Professional
Download Microsoft Office for free with your MyWCC e-mail account.
Office 365 Pro Download Instructions
Printing 
Networked and wireless printers are located on the first and second floors of the library. Sign-in with a current Westchester Community College ID is required of users from the campus community; Westchester County residents may gain temporary access to printing with a valid ID.  The following documents offer details and instructions:
All About Wireless/Mobile Printing
Scanning 
Scanners are located on the first and second floors. The following document offers instructions:
WiFi
Free campus WiFi may be accessed from your mobile device inside and outside the library building.