ResearchPath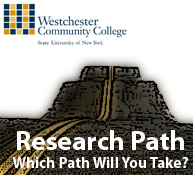 ResearchPath is the library's online, interactive research tutorial designed to introduce students to the general concepts of college-level research. The tutorial covers the research process from initial topic selection to citation and plagiarism.
---
FOR INSTRUCTORS
To add ResearchPath to your Blackboard shell, click on the request form below. Please do not copy ResearchPath over from previous semesters.
ResearchPath Instruction Request Form
For more information on ResearchPath, click here.