General Information
Like us on Facebook  for discounts and promotions

Mission Statement
We strive to provide quality food at reasonable prices and a dining experience with the highest level of customer service and standards of hospitality.
The Faculty Student Association Dining Services team looks forward to continuing to provide you with new dining offerings and improved communications on our specials and promotions. We wish everyone a happy and healthy on campus dining experience!
See more information on Catering for students and faculty.
---
The Viking Café (main cafeteria) located in the Student Center serves breakfast, lunch and dinner to students, faculty, and staff. Sponsored by the Faculty Student Association (FSA), we serve a wide variety of hot and cold food. Other locations include Crema Cafe in the Student Center and the Siegel Café in the Gateway Center.
Viking Cafe Menu– new menu items posted every Monday.
---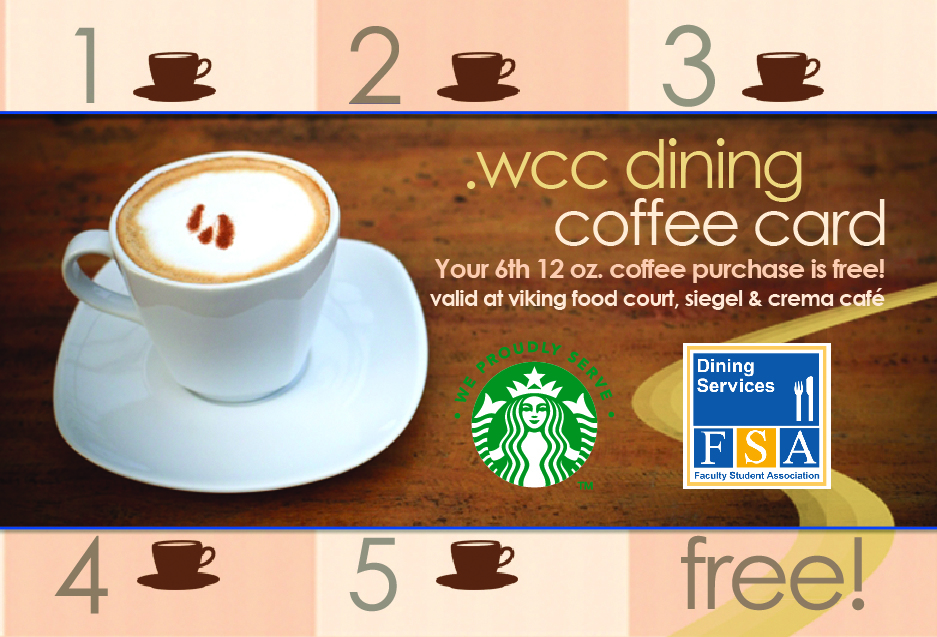 Make sure to pick up your COFFEE CARD. Purchase five coffees drinks and your sixth is free.
Purchase five coffee drinks at any one of our locations; Viking Café and Crema Cafe in the Student Center and the Siegel Café in the Gateway Center and your sixth 12 ounce coffee is free. Cards can be used and redeemed at any one of the locations including Crema Café where we proudly brew Starbucks Coffee!" Redeemable for 12 oz. coffee only, no substitutions.  Cards are available at all dining services locations and the security office in the Student Center.
Dining Services Payment options – All locations accept cash, VISA, MasterCard and Discover.
---
Vending Machines are located on and off campus and accept cash, credit/debit and the vending rewards card.
Contact Information 
Please feel free to contact us with any problems or questions.  We are here to help!
Don Hennessy – Director of Dining Services (914) 592-5281
Don.hennessy@sunywcc.edu
Georgianna Anderson – Manager of Dining Services (914) 592-5281
Georgianna.anderson@sunywcc.edu