Transfer Talk Fall 2022
Spring 2023 Calendar

Transfer Planning
Workshops (Virtual)
Wed, Feb 8th
11am –  Register Here
Wed, Feb 22nd
11am –  Register Here
 Wed, March 8th
11am –  Register Here
Wed, March 22nd
11am – 12pm – Register Here
Four-Year College Reps on Campus
Visit the Colleges on Campus Calendar to see the Spring 2023 schedule
---
Spring 2023 Transfer Fair
Tuesday, April 4th, 11am to 2pm in the Student Center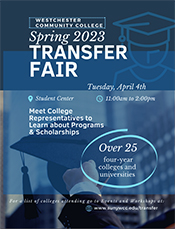 MEET THE TRANSFER TEAM!
Welcome to the Office of Transfer Services. We know that transfer planning can leave you feeling confused and overwhelmed! Let us help you meet with transfer success!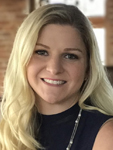 MEET WITH A TRANSFER COUNSELOR
It is never too early to create your very own Transfer Success Plan! Schedule an appointment to meet with us and we will help you get started! We also provide transfer application assistance. You can schedule an appointment online through Viking Success or email us at transfer@sunywcc.edu.
TRANSFER AGREEMENTS
Did you know that WCC had Transfer Agreements with more than 25 colleges and universities?  Visit www.sunywcc.edu/transfer for more transfer info and a list of current transfer agreements!
TRANSFER SUCCESS GUIDEBOOK
Check out our semester-by-semester guide to help you create your very own Transfer Success Plan. The WCC Transfer Success Guidebook covers college search tools, selecting top choice schools, the application process, scholarships, and so much more!