Stephanie Frank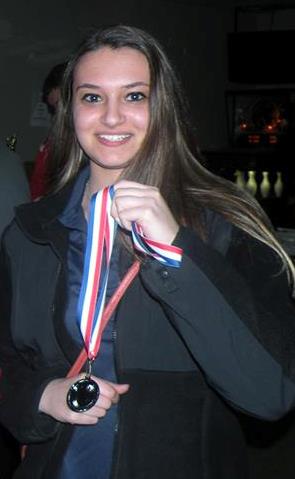 Stephanie Frank, a second-year Fashion Design student at Westchester Community College and a standout on the bowling team, is living proof of the college's commitment to fostering successful scholar-athletes. She currently has the highest overall GPA on the bowling team (3.57), and a strong academic semester this spring could earn her top honors from the National Junior College Athletic Association.
Frank's dedication to her studies is apparent in the system she's devised for balancing her various roles.
"I try to set up my schedule so that I can give two or three days per week to each subject," says Frank. "I focus on classes Monday thru Wednesday, and then work on Thursday and Friday. That frees me up on the weekends so I can bowl for the college."
In addition to her commitments as a scholar-athlete, Frank also works as a cashier and stocks inventory at Ocean State Job Lot, a discount name-brand retailer in New City.
Frank says she was attracted to Westchester Community College because the school offered her the desired academic focus she was looking for as well as the opportunity to bowl.
"I've been bowling since I was 9 years old," says Frank. "Any chance I get to bowl, I take it."
That enthusiasm for bowling – and her record of success as a member of North Rockland High School's powerhouse bowling squad – led longtime Westchester Community College head coach Walter Hauck to select her for the team.
"I'm proud to have Stephanie on the team," says Hauck. "She is very committed, and always there for her teammates. On any given day, the team has several women who can be the No. 1 bowler. Stephanie has been in that position for us on many occasions."
Frank says she enjoys being a member of the college's bowling team because the squad's travels allow the teammates to grow closer. She sees this year's team starting to gel in exciting ways.
"Last year, we were all new together and didn't really know each other," she says. "This team is different in that we have a better sense of ourselves as a team, and we work together really well."
In addition to working to attain a 3.6 cumulative GPA which she would need for NJCAA honors, and becoming a better bowler overall, Frank has one other major goal this season: "I want to beat my high score of 244."