Richard Farrow Balances Courses, Bowling and NYPD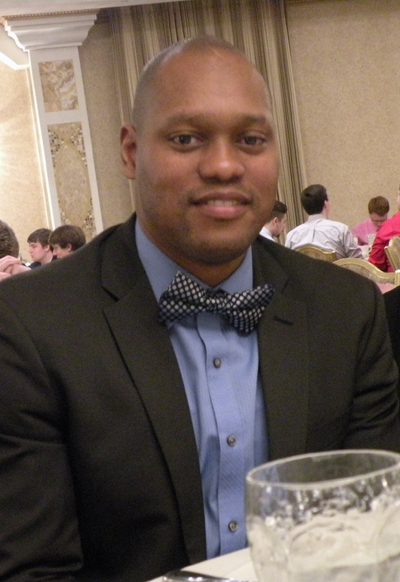 Richard Farrow Jr. is a second-year student at Westchester Community College, pursuing his associate degree in criminal justice. At 33, he is a 10-year veteran of the Parking Enforcement Division of the New York Police Department. Farrow spends his days maintaining traffic flow, securing motorist and pedestrian safety and issuing summonses to vehicles in violation.
He's looking to move up in the ranks by going further with his education. He's considering moving on to John Jay College with an ultimate goal of being a police officer.
"As a young man, I always saw myself helping people and volunteering my service in any way that I could," says Farrow, who lives in Yonkers. "With the NYPD, I can continue that vision."
As a non-traditional student working 40 hours a week, plus overtime, Farrow might not sound like someone who has much time for extracurricular activities – but in fact, he is in his second year bowling for Westchester Community College's men's team. When he arrived at the college, Farrow was determined to do it all.
"Bowling is a big hobby of mine, and I make time to fit it into my busy schedule," says Farrow. "When I decided to come to this school, my focus was and still is on getting my degree. But when I heard about the bowling team, I was very interested. So I decided that while I'm at Westchester Community College, I would take part in something – and bowling it was."
When he's not working, attending classes or bowling, Farrow enjoys relaxing by watching basketball and movies. But he admits that spare time is a rare treat.
So how does he do everything that needs to be done?
"I get most of my work done before and after classes each day," he says. "Sometimes I'm up until 1 in the morning. But it's just a determination to get things done. If that means being up later at night to get my coursework done and finish ahead of schedule, then that's what I have to do."
Farrow says that he's committed to making the time to bowl, and really likes being a part of the team.
"I just enjoy this group of young men and the effort we put in as a team," he says. "We try to do our best to win. This year's team is really coming together and competing well."
And as someone who works hard in every aspect of his life, it should come as no surprise that Farrow has some goals as a bowler.
"I want to get my average up to the 190s, and I want to win a medal. Hopefully I can achieve one of these goals."