News
2019 International Voices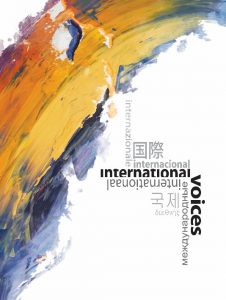 The 2019 edition of International Voices has now been delivered to various locations around campus, including the HAAB mailroom, the Library, the Academic Support Center, and the Welcome Center. We do still have limited copies available, so please let me know by reply to this email if you would like to special order some for display in your area.
An electronic version is now available on the college website at https://www.sunywcc.edu/CMS/wp-content/uploads/IV/International_Voices_2019.pdf.
Congratulations to all of the wonderful students who contributed to this year's issue. We really do have some amazing talent at Westchester Community College!
Enjoy!


Kent Trickel, Associate Professor
English, Reading and ESL Department
Academic ESL Coordinator | Abeles Endowed Chair for Distance Learning
Kent.Trickel@sunywcc.edu | GTW S233D | (914) 606-8509