Student Activities
Y.A.C (Yonkers Activity Council)
Student Club in Yonkers Extension Center
The Y.A.C is the primary source for student events and activism at the Yonkers Extension Center. It is a great leadership learning tool, provides experience with teamwork and communications. We celebrate different cultures with our events, and overall students come first!
History
The Yonkers Activity Council started in 2014 with the help of Joseph Cooke. The main mission of council is to enrich student's extracurricular experience while at the college. Since 2014, the council has become a great extracurricular activity for students and have helped them learn and stay connected with the college.
Awards
Key Award "For making consistent and outstanding contribution to the College community by exemplifying characteristics of quality leadership, service, and personal development."
Donald Weigand Club Advisor Award "For providing consistent support to club members, empowering student officers to take ownership over their organization , and creating co-curricular environments that foster students learning and success."
Ana Maria Villafuerte 2017-2018
Applications must be filled out in order be a member.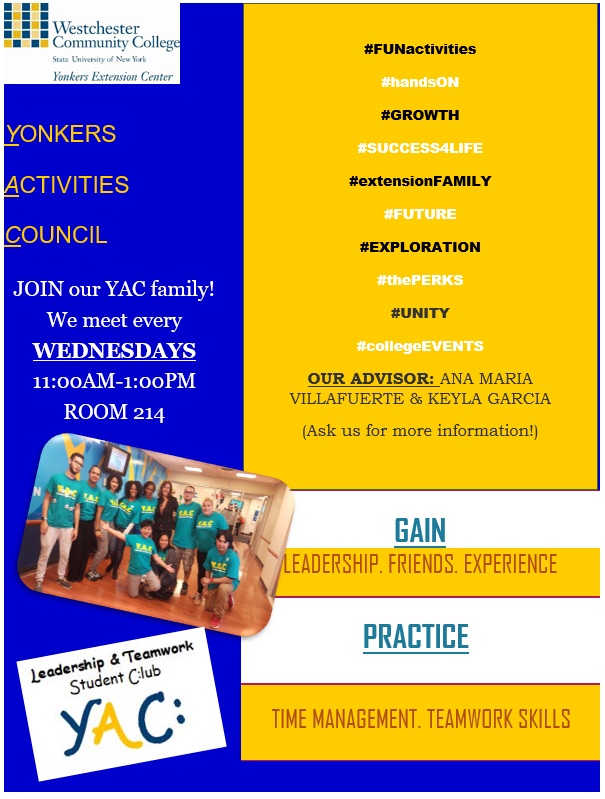 Join the Yonkers Activity Council.
Student Club:
As a club member you will learn about a new culture, develop leadership skills, participation in differences events and create –deploy –execute new events. Meet other students with similar interests and hobbies! Ask for the club advisors Keyla and Ana Maria. Join YAC today!
Come2Chat with YAC: We meet every Wednesdays form 11:00AM to 1:00PM
Some Pictures form our past events Check it out! 1, 2, 3, 4, 5, 6, 7, 8, 9, and more
Yonkers Activities Council Calendar Fall 2018
September, October, November, and December
Ways to stay updated on Y.A.C. Social Media: