Center for the Arts Gallery
Gallery Hours: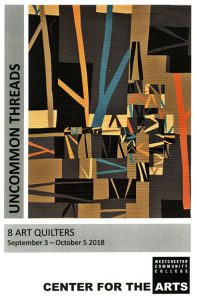 Uncommon Threads
September 3 – October 5
Opening Reception: Saturday, September 29, 1:00 pm – 3:00 pm
A selection of handmade art quilts by the Brooklyn Quilting Collective. These unconventional and inspiring quilts take on a contemporary feel, exciting the viewer with color and pattern.
Featuring artists: Madeleine Appell, Susan Byrnes, Joyce Crupi, Kirsten Fisher, Martha McDonald, Ellen Piccolo, Margaret Walsh, Shari Werner
---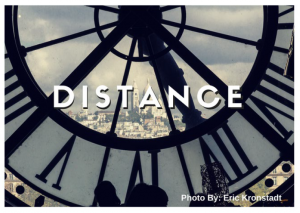 Distance: Featuring work by the Photography Network
June 4 – July 27
Opening Reception: Thursday, July 7, 6:00 pm – 8:00 pm
Westchester Community College Center for the Arts Gallery is proud to present the exhibition entitled "Distance," featuring work by the members of the Photography Network. The Network is a group made up of photographers and photography enthusiasts that meets the first Thursday of every month at Center for the Arts.
---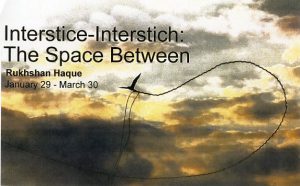 Interstice-Interstitch: The Space Between
January 29 – March 30
Reception and Community Art Project: February 24, 12:00 pm – 3:00 pm
This exhibition by mixed media artist Rukhshan Haque explores the tension among states of isolation, observation, and fragmentation and the desire and longing to connect, piece, and create space. It involves the exploration of the two media of hand embroidery and photography and a dialogue between the two disciplines.
---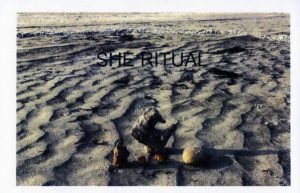 She Ritual
September 6 – October 31, 2017
Panel Discussion and Reception: Saturday, October 7 at 1:00 pm (Moderated by Kay Turner)
Featuring work by Jesse Bransford, Clarity Haynes, Elizabeth Insogna, and Felli Maynard
Curated by Elizabeth Insogna
She Ritual investigates he territory of the divine feminine through  encountering the spiritual, metaphysical, and invisible layers of this realm. Works included generously expand this historically rejected dimension into a space of empowered transformation through the practices of the artists involved in this exhibition. Ritual work includes the diurnal and magical as well as the nexus of how these spaces intersect.
---
Student Exhibition Spring 2017
April 17 – May 5
This year's show will highlight the accomplishments of the Center's students working in the media of photography, ceramics, and digital arts.
---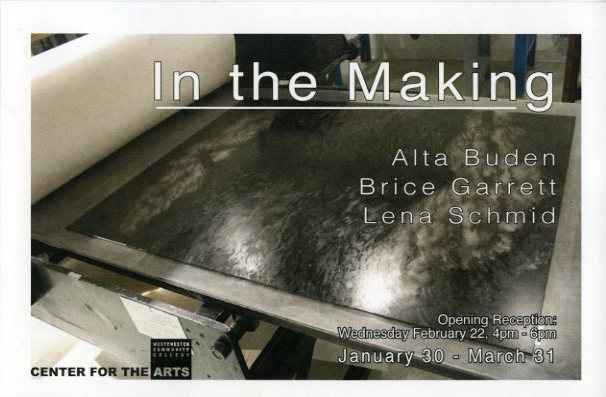 In the Making
January 30 – March 31, 2017
Featuring work by Alta Buden, Brice Garrett, and Lena Schmid
Opening Reception: February 22, 4:00 pm – 6:00 pm
Informed by the act of doing, In the Making is a group exhibition bringing together various artists whose work is heavily informed by process. Each artist offers an insight into a different material and practice, presenting works of sculpture, jewelry, drawings, and installations. Highlighting the intuitive and transient actions intrinsic to process based work, new site-specific pieces will transform the gallery space alongside finished works.
---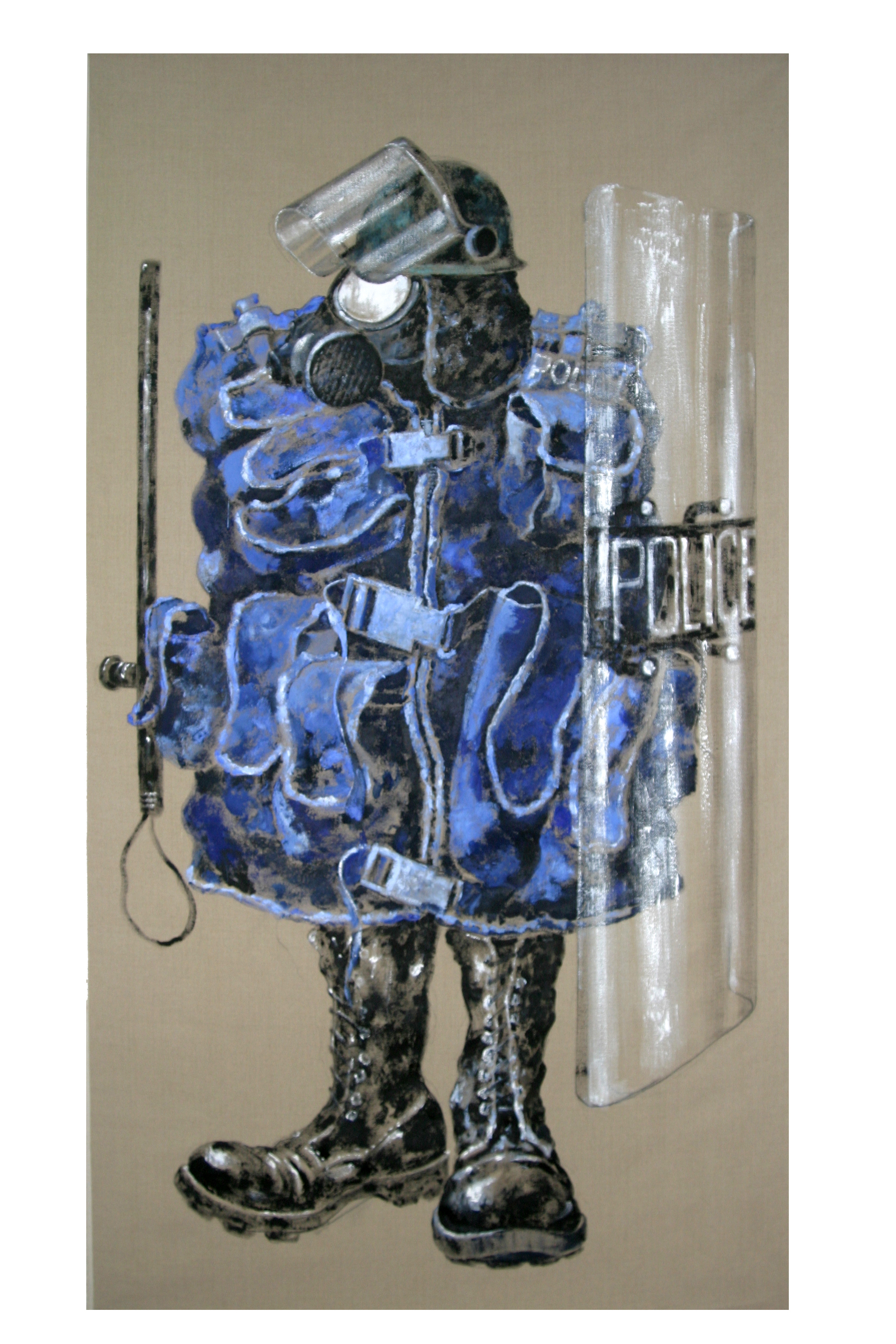 The Issues
September 7 – October 31
Curator: David Fox
What are the issues currently defining out world? How are artists addressing the current political climate? Whether it is global warming, corporate greed, the threat of ISIS, poverty, water shortage, inequality, police brutality, or any other pressing issue of our times, we asked our faculty to respond to a theme they feel passionate about. This exhibition reflects how art can focus out attention to the problems of our time.
---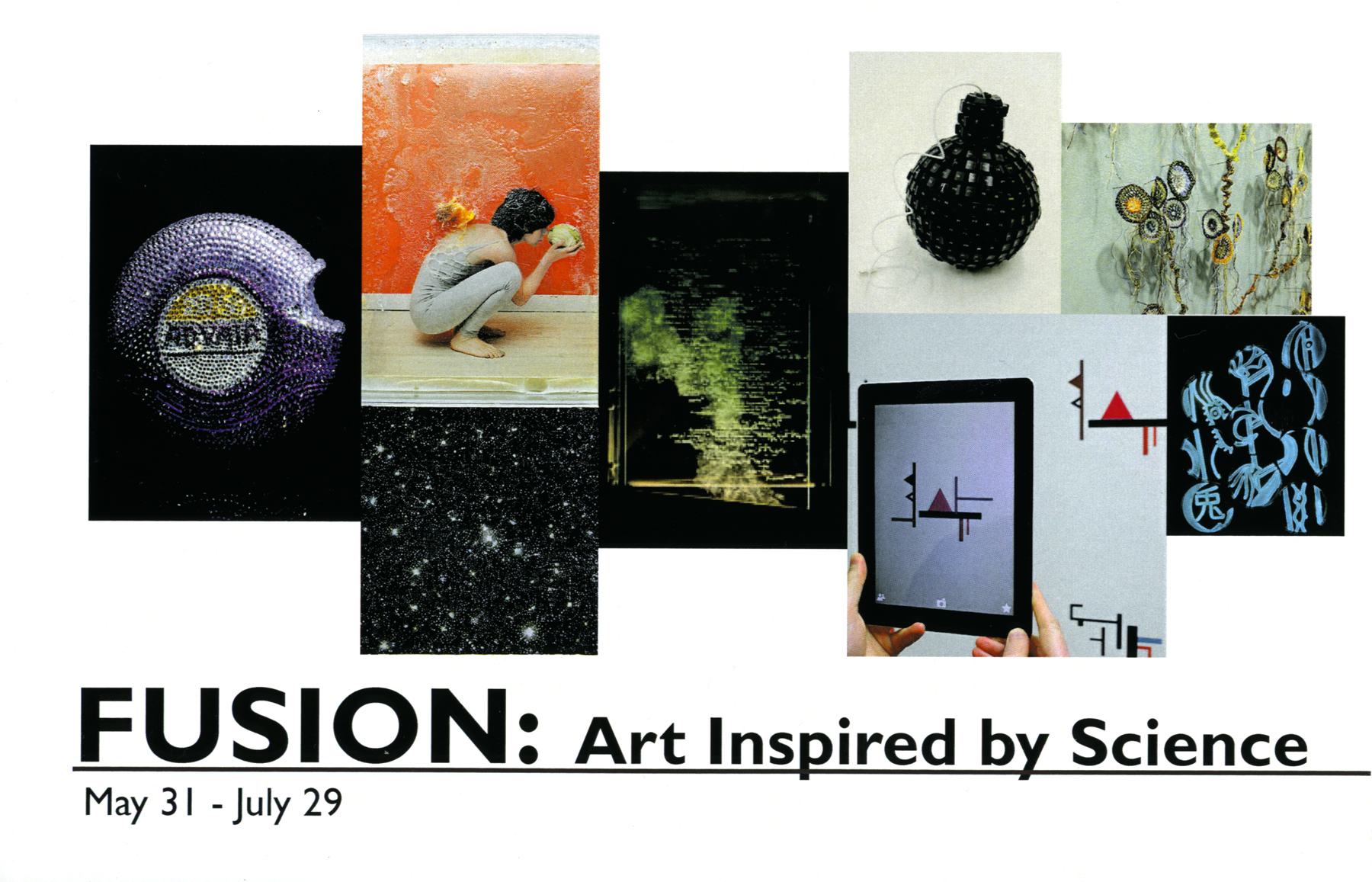 Fusion: Art Inspired by Science
May 31 – July 29, 2016
Curator: Virginia Walsh, Ann Street Gallery
Fusion: Art Inspired by Science highlights the innovative works that integrate methods or concepts borrowed from science. The featured artworks include sculptures, fiber arts, a sound installation, and other mixed-media works. The artworks explore areas as diverse as digital investigations into microbiology, qualitative research and creative explorations into the realm of coding. This exhibition affords an opportunity for artists, scientists, and the audience to explore with a transdisciplinary approach how the world is perceived through the lenses of art and science.
---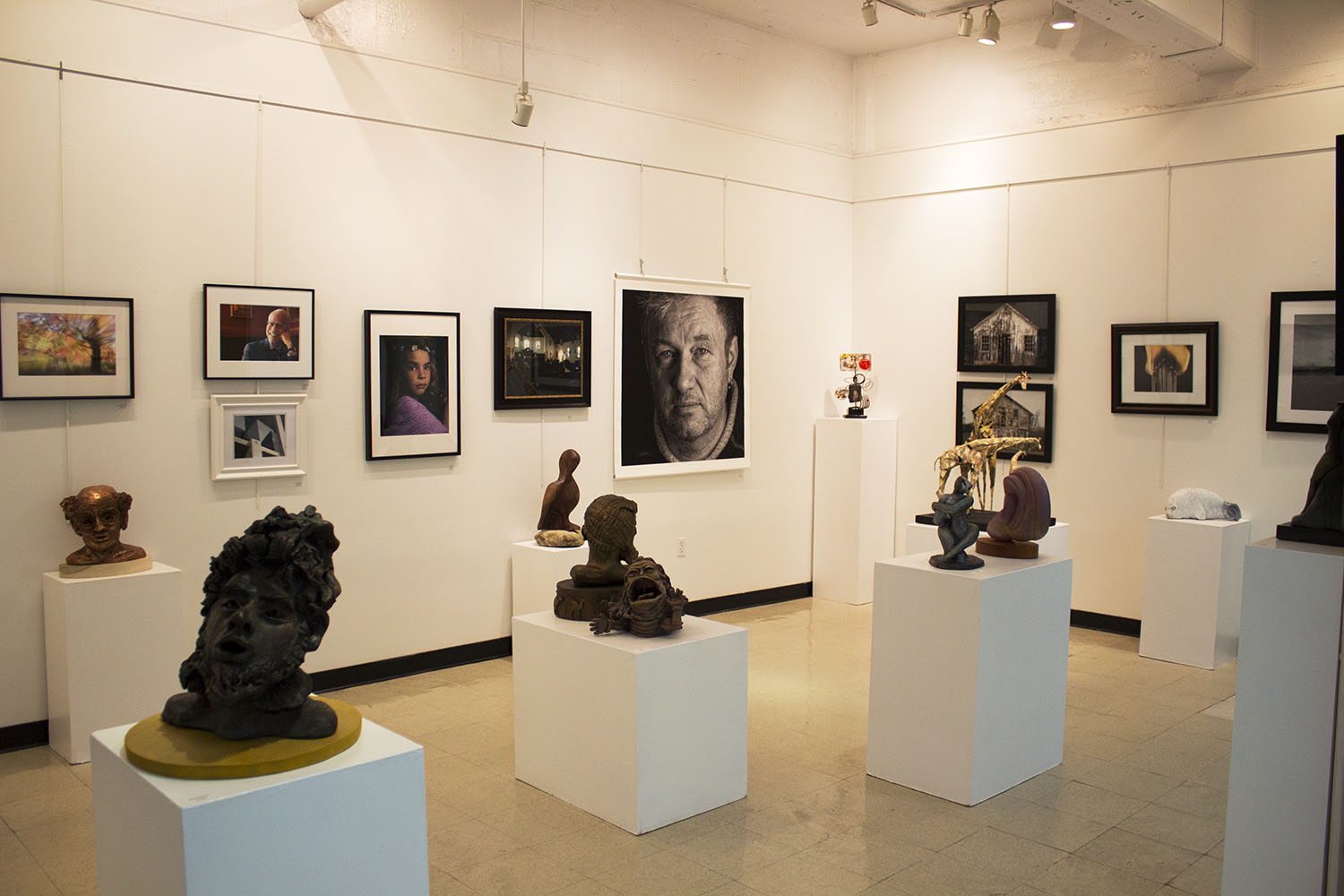 Student Exhibition 2016
April 18 – May 6
This year's show will highlight the accomplishments of the Center's students working in the media of photography, ceramics, and digital arts.
---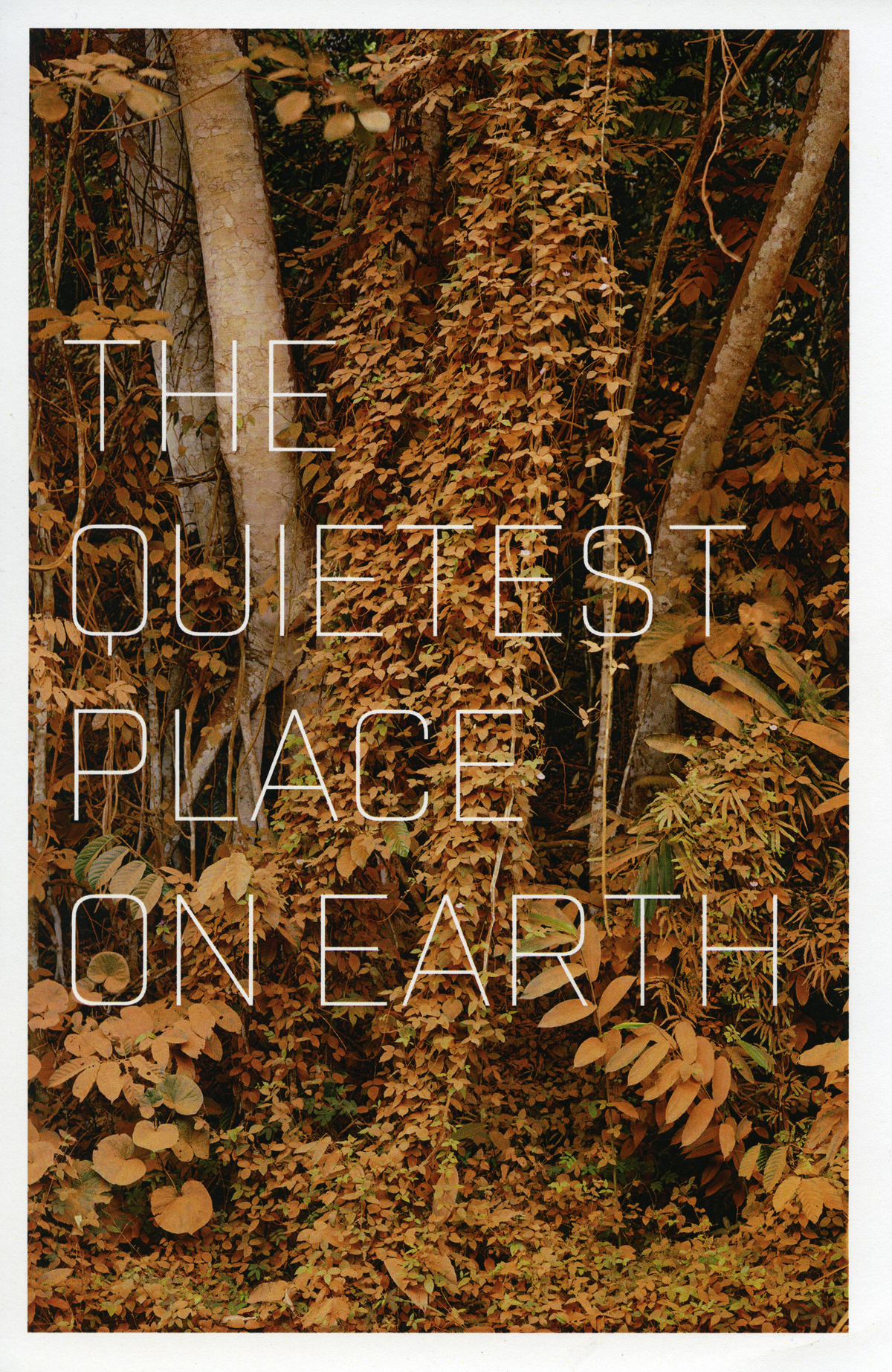 The Quietest Place on Earth
February 1 – March 31, 2016
Featuring Work by:
Wesley Bernard
Sasha Bezzubov
Susi Dugaw
Kim Hoeckele
Marisa Scheinfeld
Nicole Tschampel
The Quietest Place on Earth references Andrei Tarkovsky's film, Stalker. Positioning the photographer as 'Stalker', or guide, the work of these artists leads viewers to unimagined, unknowable spaces. Each of these arists guide us through their specific vision as a biographer, explorer, historian, archaeologist – asking viewers to unearth new meaning in the worlds that surround them.
---
Gravity: Defined and Defied
May 26 – October 16, 2015
An exhibition by Kirsten Lyon and Jaanika Peerna
Opening Reception: Tuesday, June 9, 6:00pm – 8:00pm
Using qualities in nature that embody and emanate buoyancy, movement, and rhythm, both artists work with the properties of gravity and light. This exhibition includes large scale drawings and delicate ceramic forms which are synthesized into a built environment. The works inform our perception of the forces present in the movement of wind, the breaking of waves, and the interaction of light with art. Two bodies of work, as conceived by the artists, come together to provoke, bewilder, and draw us into works that are both ethereal and fierce.
---
The Mosaic Project:
January 26 – March 6, 2015
Opening Reception: Thursday, February 12, 3:30pm

In a time when the word "diversity" is almost synonymous with "race", the Digital Photography 2 students featured in The Mosaic Project have used photography to unpack and investigate this loaded term. Their photographic interpretations evoke a more nuanced approach to visually representing the concept of diversity, acknowledging the weight it bears on our understanding of progress, discrimination culture, stereotypes, exclusion, and community.
---
 Student Exhibition
Drawing, Painting, Jewelry, Metals
November 3 – November 28
Reception: Thursday, November 6 6:30pm – 8:30pm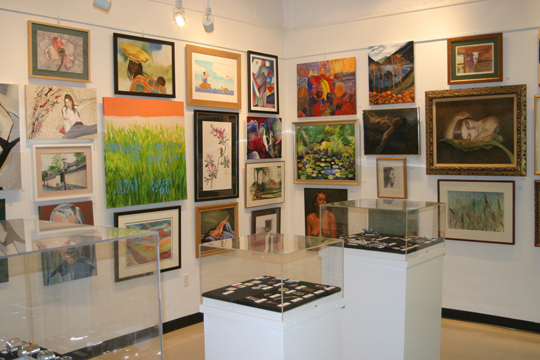 ---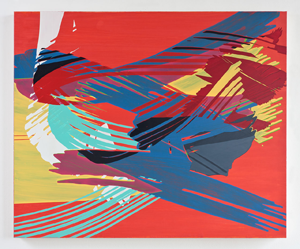 Pixel Perfect | Analogue Output
exhibition curated by Nicole Tschampel
September 8 – October 17
In the current times, access to a vast range of digital hardware and software has transformed fine art through uniting divergent artistic approaches. Moving between the tools of drawing, painting, printmaking, sculpture, photography and computer software artists can blend and exploit the different characteristics of each medium. This interdisciplinary approach within the contemporary art word is the focus of Pixel Perfect | Analogue Output.
In this exhibition the artists have produced work where digital tools play an integral role in their practice without producing work that appears explicitly digital or computer based.
---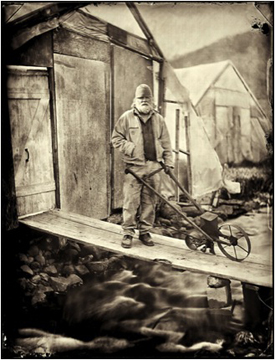 Francesco Mastalia: ORGANIC
June 2 – July 31
Opening Reception and Artist Talk: June 16, 6pm – 7pm
Francesco Mastalia set out on the winding roads of the Hudson Valley, driving more than 17,000 miles with a large format wooden camera, and an idea to photograph the individuals at the helm of the growing sustainable, local food movement. To date, he has photographed over 100 farmers and chefs in his photo-documentary series, organic.The work in this series eloquently blends the contemporary subject matter, organic/sustainable farming, with the historic photographic process of wet plate collodion. The wet plate collodion process dates back to 1851 and Mastalia refers to the method as "part alchemy and part art." The process of taking and developing pictures on glass plates has remained relatively unchanged since its inception much like the time-honored traditions of the farmers he photographed.
Bio: Francesco Mastalia has traveled the world photographing tribal, religious, spiritual, and indigenous people. His book dreads published by Workman Artisan, is a photo documentary on the history of dreadlocks.It contains travels to Ethiopia, Kenya, Angola, and many other countries. dreads is now in its eighth printing, sold worldwide in four languages, and includes an introduction by Pulitzer Prize winning author Alice Walker



---
STUDENT EXHIBITION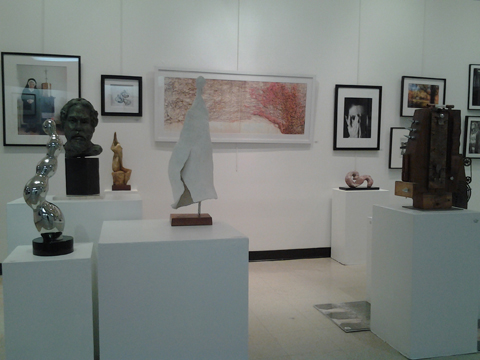 Photography, Sculpture and Ceramics
April 7 – May 2
Reception:  Tuesday, April 8, 6:30pm – 8:30pm
The Center is pleased to announce our annual student exhibition. This year's show will highlight the accomplishments of our students working in the media of Photography, Sculpture, and Ceramics. Please join for an opening reception on Thursday, April 7th from 6:30 to 8:30 PM, as we come together as a community and celebrate our students' hard work. For newcomers, the student exhibition is the perfect opportunity to find out more about what goes on in the studios here at the Center.
---
Josette Urso
January 27 – March 14
Reception: Thursday, March 6 6:30pm – 8:30pm

Josette Urso is a recent addition to the faculty at Center for the Arts. This exhibition draws on her interests in painting, drawing and collage.  Primarily an abstract artist, she takes inspiration for everyday life. Her paintings celebrate the small nuances of weather and her overall impressions of looking out her window or going outside for a walk.
Josette has shown her work widely in the United States and abroad in galleries, public institutions, and museums including the New York Public Library, the Drawing Center, and the Bronx Museum for the Arts. She has had numerous grants and residencies including those from the NEA, Basil H. Alkazzi and the Pollock-Krasner and Gottlieb Foundations as well as the Camargo Foundation, Ucross and Yaddo.
---
 Student Exhibition
Drawing, Painting, Jewelry, Metals
November 4 – November 29
Reception: Tuesday, November 12 6:30pm – 8:30pm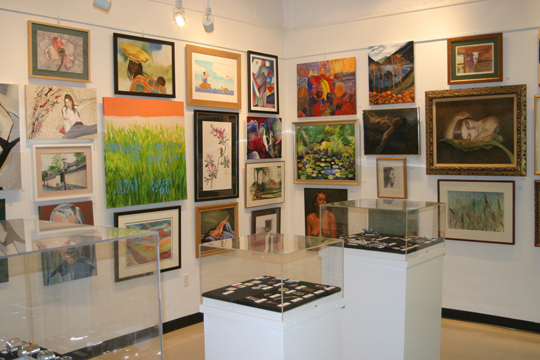 The Center is pleased to present an exhibition of Drawing, Painting, and Jewelry created by its talented students.
---
Faculty Exhibition
September 5 – October 18
Reception: Tuesday, September 10 6:30pm – 8:30pm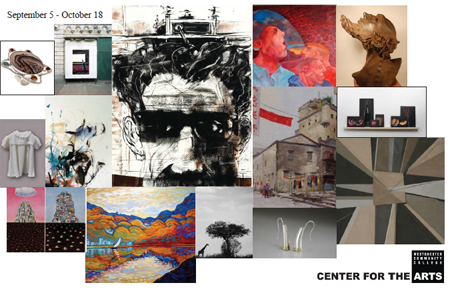 The gallery will be featuring work from the professional and practicing artists that make up the faculty at the Center for the Arts in White Plains.
---
Rhythm of the Brush: The Art of Sungsook Setton
June 4 – July 29, 2013
Opening Reception: Tuesday, June 4th, 1-3PM

This exhibition features the work of Sungsook Setton, Korean-American artist and calligrapher living in metropolitan New York and faculty at Center for the Arts. The works on display will include landscape, abstraction, nature and artists books. With spontaneity and energy, her paintings combine western themes with eastern techniques creating a unique and fluid style. From the organic to the abstract, Sungsook approaches her work as a performance artist where the brushstrokes tell a story in rhythm through time and space. A reception will be held on Tuesday, June 4 from 1pm – 3pm.
Sungsook Setton is a Korean-American artist and calligrapher. Besides her training in brush painting and calligraphy under Chinese and Korean masters, she has also studied Western art in Germany, England and the United States, obtaining her BFA at Stony Brook University in New York and her MFA in interdisciplinary art at Goddard College. Setton's work has been widely exhibited in Canada, England, Taiwan and the United States and has received more than a dozen awards, including twice Best of Show at the National Juried Exhibition by the Sumi-e Society of America. Sungsook Setton currently serves on the faculty of Westchester Community College and China Institute in New York.
---
Figure and Fantasy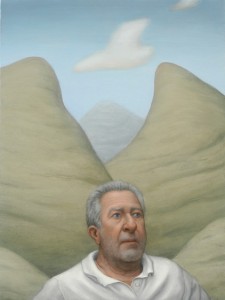 September 8 – October 12
Opening Reception: September 6, 6:30PM – 8:30PM
Working across painting, drawing, sculpture, and photography, each of the artists in Figure and Fantasy augment the traditional constraints of portraiture or figuration by incorporating combinations of the fantastical, personal, cinematic, and abstract. Many of the figures represented in the works on view are culled from reality: the artists create images and objects based, in part, on models, friends, themselves, strangers encountered in the world. Filtered through each artist's interior world, these figurative subjects become vessels through which both artist and audience explore and discover new symbolic vocabularies and uniquely personal mythologies.
ARTISTS:
Seth Michael Forman
Benjamin Kress
Selena Salfen
David Young
image credit: Seth Michael Forman 
---
Westchester Gallery Archive
Artist In Residence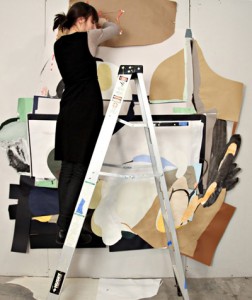 Artist In Residence: Monika Zarzeczna
June 4 – July 27
Gallery Reception:
Thursday, July 26
6pm – 7pm
Center for the Arts is proud to announceits inaugural artist-in-residence program.During June and July, 2012, artistMonika Zarzeczna will be creating a sitespecificinstallation in the gallery at theCenter. Working several days a week inaddition to teaching a variety of classesfor children and teens (including the newArt Institute for Teens), Zarzeczna willbe available to the Center community todiscuss her artistic practice, working process, and the ongoing progressof her exhibition.
During her residency, Zarzeczna will be working on the installation under theworking title Hardnekkig, a Dutch word which loosely translates as 'stubborn' or'tough.' The project is inspired by elevated views of the city of Prague, and consistsof a multitude of roof and other architectural shapes which cling to walls, stand onplatforms, or are suspended from the ceiling. The work mimics the way people candefy logic or nature by settling down in unsuitable places or situations. In a playfulway, Hardnekkig will adjust itself to the exhibition space, slowly taking over thegallery over the course of Zarzeczna's two-month residency.
Monika Zarzeczna was born in Poland, grew up in the Netherlands where she pursued her art education, and moved to New York in 2002. She currently livesand works in Brooklyn. Living between different cultures made her interested in cultural behavior and the interpretation of images. Monika's main medium is paperwhich she uses for drawings as well as collage, installations and sculptures in workthat moves between representation and abstraction.
---
Student Exhibition: Ceramics, Digital Arts, Photography, Sculpture
On view: April 2 – April 27, 2012
Reception: Tuesday, April 3, 6:30pm – 8:30pm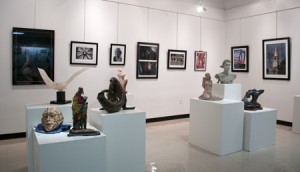 This year's exhibit will highlight the accomplishments of our students working in the media of ceramics, digital arts, photography, and sculpture. Please join us for an opening reception on Tuesday, April 3, 6:30pm – 8:30pm, as we celebrate the accomplishments of our students. This reception is also an opportunity to find out more about our facility and the classes we offer.
---
Sean Hemmerle: Nodes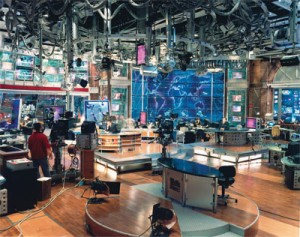 Sean Hemmerle: Nodes
An exhibition at Westchester Community College Center for the Arts
Opening reception and artist talk:
Thursday, Februrary 9, 6:30pm – 8:30pm
Exhibition on view: January 30 – March 9, 2012
This exhibition is curated by Joe Winter.
For more information about Sean Hemmerle, please visit his website by clicking here.
EXHIBITION ESSAY
This exhibition brings together several bodies of Sean Hemmerle's photographic work. Throughout, Hemmerle uses the vernacular of photojournalism to create collections of images that reflect upon the processes by which pictures, places, ideas, and events get turned into something we call news.
Hemmerle shoots on location, often in exotic, politicized locales: Iraq, Afghanistan, Beirut, Northern Ireland. He takes on familiarly "newsworthy" topics–armed conflict, contentious international borders, post-industrial American decay. His images present landscapes variously contested by armed fighters, political powers, and forces that may be economic, entropic, cultural or social. Despite their obvious human imprints–in one image, we quite literally see the handprints of Irish children on a wall in Belfast–nearly all of these images are devoid of figures. It is as though whole swaths of the world have been abandoned.
While each image is tagged or titled with its specific location of origin, Hemmerle's series cover vast geographic, historical, and sociocultural distance. Within the gallery, we see images titled and sourced from around the world: Al Rashid Military Base, Baghdad, Iraq 2005, shares space with Juarez, 2004, and Troy, NY 2011. Each of these images carries with it the weight of some history, event, or ongoing struggle. Rather than delve into the specifics, Hemmerle contests the convention by which the news media "put a human face" on a story. His images eschew the calculated deployment of signifiers like skin color, gender, and age, so often used to manufacture empathy. Undoubtedly, each contest is at once deeply personal and specific- and yet taken as a group, they become unsettlingly general. Rather than trivialize the specificity of human suffering, this serialization of conflict both records the diversity and magnitude of human folly while simultaneously critiquing the unquenchable desire to record, view, and distribute images of that folly.
In stark contrast, the images in Hemmerle's Media Nodes series (presented in the gallery display cases) teem with figures and activity. If the images in the main gallery might be described in terms of the "front line" of photojournalism–the sites at which events recorded as news have taken or continue to take place–then the images printed and presented as 2-page spreads in the Columbia Journalism Review can initially be understood as documenting that which goes on "behind the scenes."
Immediately, even this basic distinction suggests the critique of media hovering in space created between Hemmerle's diverse projects: it is both deeply disturbing and strangely salient to imagine the world as an empty stage upon which to enact the performance of news. The Media Nodes images leave little doubt that the news, as we understand it, is not some pre-existing, tangible series of objects or events, but rather an industry, a workforce, a laborious undertaking by which information is recorded, analyzed, interpreted, packaged, edited, broadcasted, and received.
To produce these works, over many years, Hemmerle has visited and photographed a vast array of news media organizations, from corporate giants like the New York Times, Fox News, and CNN, to local newspapers, student publications, and news blogs. In one sense, this long-term project attempts to observe and record the transformation of the news media through the dawn and rise of the digital era. Seen in series, the diversity of environments represented echoes the contemporary conception of "the news." Rather than a single, objective, quantifiable thing, today's news is understood to be ceaselessly filtered through a plurality of voices, ideologies, and interests. By drawing attention to the aesthetic elements of contemporary news organizations, Hemmerle's images remind us that news itself has become increasingly aesthetic, ideological, and systematic.
Seen in light of these Media Nodes images, Hemmerle's empty landscapes on view in the main space seem at once to both metaphorically record and implicitly criticize the "news cycle." It is not that these landscapes have been abandoned by those who actually inhabit them, but rather, by the news media itself and, by proxy, those of us who come to know these places and conflicts through the media. Thus Hemmerle's work implicates both the producers and consumers of media.
Whether it takes an hour, a week, or several years, once a particular bomb, conflict, or economic crisis has passed through the news, it recedes into the past. Its very newness and news-ness have, by definition, been exhausted. The media industry both demands and produces a constant stream of the new in order to present us with the news. Even as Hemmerle himself travels from site to site, conflict to conflict, to create photographs, his images announce and denounce his and our privilege of turning the page. Long after we have tuned out or logged off, the turmoil continues, the news machine continues to work.
Joe Winter
January 2012
---
Student Exhibition: Drawing, Painting and Jewelry
On view: November 1 – November 28, 2011
Reception: Tuesday, November 1, 6:30pm – 8:30pm
This year's exhibit will highlight the accomplishments of our students working in the media of drawing, painting and jewelry. Please join us for an opening reception on Tuesday, November 1, 6:30pm – 8:30pm, as we celebrate the accomplishments of our students. This reception is also an opportunity to find out more about our facility and the classes we offer.
---
Faculty Exhibition
On view: September 8 – October 7, 2011
Reception and Open House: Thursday, Sept 8, 6:30pm – 8:30pm
The exhibition features work from the professional and practicing artists that make up the faculty at the Center for the Arts. Meet faculty members and network with other students at the opening reception during our the Center's annual open house.
---
Canned: June 2 – July 22
Canned: an exhibition of mixed media sculpture and painting
On view: June 2 – July 22, 2011
Reception: Thursday, June 2, 6:30pm – 8:30pm
An exhibition of sculpture and mixed media exploring the idea of trash receptacles as works of art. Artists included in this exhibition have found ways to dramatize, enhance, or otherwise encourage their audience to reexamine the 'can,' an object that typically escapes contemplation and aesthetic evaluation. While some artists draw our attention to the can's role in the environment, others point out the degree to which we take these objects for granted. The particpating artists think inside and outside of the can, challenging our pre-conceived ideas of these mundane objects.
Artists included: Robert Bello, Ji Young Chung, Mitchell Goldberg, Diana Gojcaj, Lorena Isadora, Bruce J. Levy, Matthew R. Levy, Cassandra Maniotis, Ilene Avery Marwick, Rubely Melo, Robert Molloy, Jessie Nicoletti, Luis Perelman, Jeanne D. Shaw, Joel Trieger, Cora Weis.
This exhibition was organized by Center for the Arts instructor Barbara Segal.
---
Student Show
The Center for the Arts is pleased to announce that the annual student exhibition is currently on view. This installment of the show features works in ceramics, sculpture, photography, and digital arts.
On view: April 4 – May 1, 2011.
Please join us for an opening reception on Thursday, April 7th, 6:30-8:30pm.
---
Wish You Were Here
The Westchester Gallery presents
WISH YOU WERE HERE
Video, photography, documents, artifacts:
sendings from elsewhere in contemporary art. 
curated by Joe Winter
January 10 – March 4, 2011
Reception: Thursday, February 10, 6:30pm – 8:30pm.
Images of the exhibition:
A photograph, a text. A video recording, a broadcast. Objects, artifacts, and souvenirs: this is how we record and remember the past, how one place and time is preserved and transmitted to another. Wish You Were Heredraws together a group of contemporary artists whose work exists both inside and outside of the gallery. Each artist presents work that alludes to events and materials that existed (or may have existed) at another place, another time. Rather than relying on conventional approaches to documentation, each artist takes on the formal and conceptual problem of exhibiting time-based, site specific, or performative artwork offsite and after the fact. Whether through a performance made specifically to be recorded or a series of artifacts from a previous event, each work in Wish You Were Here creates a link between one space and time and another.
Artists included:
Alan Calpe
Loren Erdrich
Zerek Kempf + Chip Khorman
Jimmy Kuehnle
Adam Shecter
Ad Hoc Vox (Colleen Asper + Jennifer Dudley)
Student Show Fall 2010
The Center is pleased to announce its annual Student Exhibition, feature works from our talented students in painting, drawing, and jewelry. Please join us in celebrating these students accomplishments at an opening reception for the exhibition.Opening Reception
Tuesday, November 9th, 6:30-8:30PM
Refreshments will be served.The exhibition will be on view from November 1st – November 24th.