Virtual Chef Talk with Richard Thierry

Date: Thursday, December 3, 2020 from 6:00 p.m. to 7:30 p.m.
Location: Online via Zoom, email peekskill@sunywcc.edu to receive the Zoom link.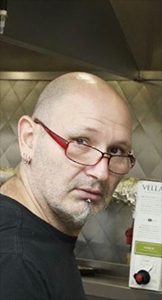 Meet local Westchester Chef, Richard Thierry.
By age 14, Thierry had already decided that he wanted to be a chef. That passion was instilled in him by his grandmother, Helena. Though born in Yugoslavia, she quickly embraced the art of French cuisine when she emigrated to Paris at age 13. Having been raised by her, it was only natural that passion would be cultivated in Thierry. It was from her, that he learned the value of quality food, seasonal products, and buying locally.
With fierce independence, Thierry decided to forego a culinary education, at age 17 he lied to get a job as a sous chef in a small traditional French restaurant in Paris. Over the next several years, he moved from restaurant to restaurant after he felt he had to have exhausted what there was to learn. By age 21 he was a Chef at Le Sac a Dos.
Thierry has had a life of travel living in France, Spain, French Polynesia, Reunion Island, South Africa, Madagascar, England, and America. Always, he has increased his knowledge of local cuisine to develop his own, eclectic brand of French fusion cooking. In 2017, he helped to open Tambour in Park Slope, Brooklyn, serving as their original Chef.
Thierry now resides in Westchester County with his passion for food as a private Chef as well as to plan and prepare for private parties, private/group cooking classes for children and adults.
Email peekskill@sunywcc.edu to receive the Zoom link