U.S. Pathway Workshop: Financial Literacy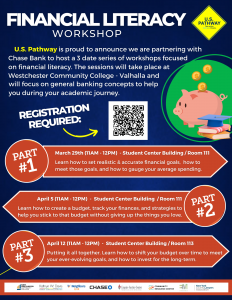 3-part Workshop
When: Wednesdays from 11 a.m. to 12 p.m.
Part 1: March 29, 2023
Part 2: April 5, 2023
Part 3: April 12, 2023
Where:
Part 1: SUNY Westchester Valhalla, Student Center, Room 111
Part 2: SUNY Westchester Valhalla, Student Center, Room 111
Part 3: SUNY Westchester Valhalla, Student Center, Room 113
Registration required, sign up to attend.
U.S. Pathway is proud to announce we are partnering with Chase Bank to host a 3-date series of workshops focused on financial literacy. The sessions will focus on general banking concepts to help you during your academic journey and saving for college!
For more information, contact lm46@sunywcc.edu.