Tips to Keep on Walking
English Language Institute TESOL Webinar
Date: Monday, December 20, 2021, from 6 to 7 p.m.
Location: Online, register to attend via Zoom
View the event flyer: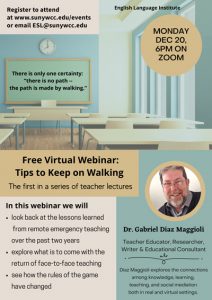 For Teachers of English as a Second Language
Discover lessons learned from remote emergency teaching with author and teacher trainer, Dr. Gabriel Diaz Maggioli. Explore what is to come and see how the rules of the game have changed.
This webinar is hosted by Dr. Gabriel Diaz Maggioli, a teacher educator, researcher, writer, and educational consultant. Diaz Maggioli explores the connections among knowledge, learning, teaching, and social mediation both in real and virtual settings.