The Necessity of Young Adult Fiction with Deborah Williams, Ph.D.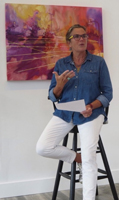 Presented by the Humanities Institute
Date: Tuesday, April 18, 2023, from 12:00 noon to 1:00 p.m.
Location: SUNY Westchester Valhalla, Classroom Building, Room 100
In this presentation and discussion, author Deborah Williams will argue that YA fiction helps us to think about some of the most pressing problems of the twenty-first century: nationalism, fundamentalism, citizenship, and climate crisis.
For more information, contact Professor Ostman at heather.ostman@sunywcc.edu.