Storytelling is Teaching: The Value of Narratives
For teachers of English as a Second Language and free of cost.
Date: Saturday, January 15, 2022 from 12 p.m. noon to 1 p.m.
Location: Online, register to attend via Zoom
View the event flyer: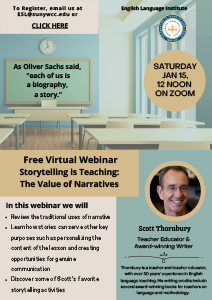 Review the traditional uses of narrative with teacher educator and award-winning writer, Scott Thornbury. Learn how stories can serve other key purposes such as personalizing the content of the lesson and creating opportunities for genuine communication. Discover some of Scott's favorite storytelling activities.
Thornbury is a teacher and teacher educator, with over 30 years' experience in English language teaching. His writing credits include several award-winning books for teachers on language and methodology.