Regenerative Agriculture and Food Justice Panel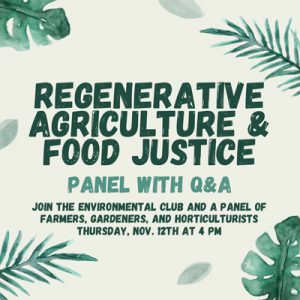 Date: Thursday, November 12, 2020, from 4:00 p.m. to 5:30 p.m
Location: Online, attend via Zoom.
Join the Environmental Club and a panel of horticulturists, farmers, and community gardeners as we discuss regenerative agriculture and food justice.
Understanding how our food is grown and the challenges of accessing it is vital to achieving an equitable and sustainable future. Join us as we continue this conversation within the WCC community.
Attend via Zoom