Native Plant Weekend: Benefit Events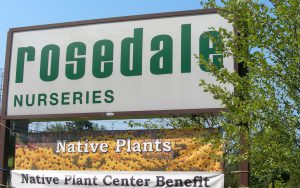 Benefit for The Native Plant Center
Date: Saturday and Sunday, September 10 and 11, from 9:00 a.m. to 5:30 p.m.
Location: Rosedale Nurseries,
51 Saw Mill River Road,
Hawthorne, NY 10532
The ever popular Native Plant Weekend at Rosedale Nurseries returns for the 13th season on September 10 and 11, 9 a.m. – 5:30 p.m.
Shop a wide selection of native trees, shrubs, perennials, grasses, and ferns for your garden.
Personal shoppers will be available to help you make selections.
A percentage of sales of all carry-home items is donated to The Native Plant Center.
Members of The Native Plant Center receive a 10% discount on purchases at Rosedale. Click here and become a member!
Free Workshops
Saturday, September 10, 2022
11 a.m.: Native Groundcovers as Natural Mulch, Missy Fabel
2 p.m.: Native Powerhouse Pollinator Plants, Kim Eierman
Sunday, September 11, 2022
11 a.m.: Native Hedges, Taro Ietaka
2 p.m.: Favorite Native Shrubs for Your Garden, Cathy Ludden
For more information, contact wcc.nativeplant@sunywcc.edu or call 914-606-7870