Men's Support Group
Every First Wednesday of the Month at 11:30 a.m.
Date: Wednesday, February 3, 2021 at 11:30 am.
Location: Online, attend via Zoom
Meeting ID: 959 1049 9806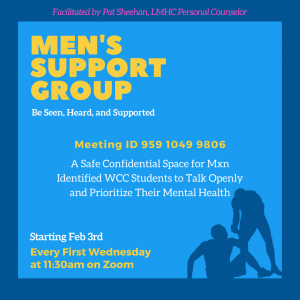 Men's Support Group is a monthly mental health support group for WCC students who identify as men to talk openly and learn healthy ways of coping with stress related to school and life, the challenges that come with being a man, and prioritize your mental health!
In this space, you'll virtually meet with Pat Sheehan, a licensed mental health professional from WCC's Personal Counseling Department, and other WCC students. These sessions are free and confidential, and convene every first Wednesday of the month at 11:30 a.m. on Zoom.