Meet the Pros with Washington Post reporter, Camila DeChalus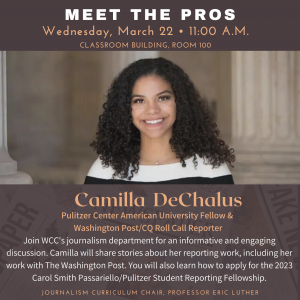 Part of Women's History Month 2023
Date: Wednesday, March 22, 2023, from 11:00 a.m. to 1:00 p.m.
Location: SUNY Westchester Valhalla, Classroom Building, Room CLA 100
Will be streamed online, link to come
The Communication, Journalism, and Media Arts Department at SUNY Westchester Community College presents "MEET THE PROS", an informative and engaging presentation/discussion with Camila DeChalus about her reporting, including her work with The Washington Post that specializes in creating engaging visual journalism to reach new audiences. Camilla DeChalus is a Pulitzer Center American University Fellow and Washington Post/CQ Roll Call Reporter.
You will also learn how to apply for the 2023 Carol Smith Passariello/Pulitzer Student Reporting Fellowship.
For more information, contact eric.luther@sunywcc.edu.