Grief Support Group
Every Second Wednesday of the Month at 11:30 a.m.
Date: Wednesday, March 10, 2021 at 11:30 a.m.
Location: Online, email PersonalCounseling@sunywcc.edu to sign-up.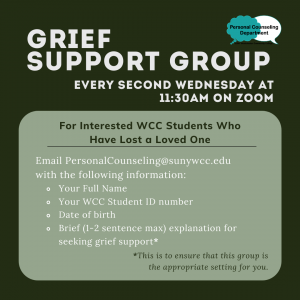 Experiencing the loss of a loved one, friend, or family member can be overwhelming, incredibly painful, and confusing. It is normal to be struggling to function the way you want to at this time.
The Personal Counseling Department's monthly Grief Support Group is a safe and supportive virtual space for students to process loss, learn coping strategies, and connect with others. This group is facilitated by licensed mental health professionals from WCC's Personal Counseling Department.
Interested students should email PersonalCounseling@sunywcc.edu with the following information:
Full Name
WCC Student ID
Date of birth
Brief explanation for seeking grief support*
*This is to ensure the group is an appropriate setting for you.