Discovering The Real You – Updating Your Identity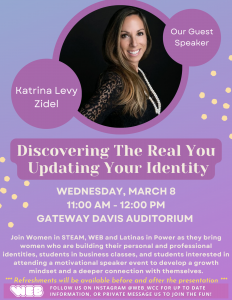 Date: Wednesday, March 8, 2023, from 11:00 a.m. to 12:00 p.m.
Location: SUNY Westchester Valhalla, Gateway Center, Davis Auditorium
Join us for an inspiring presentation on International Women's Day, hosted by the Women in STEAM club in collaboration with DSI, WEB, and Latinas in Power. Our guest speaker, Katrina Levy Zidel, will guide us on the journey of "understanding how to update our identity and who we really are." Get ready to discover the real you and the pathway to enhancing yourself!
Don't miss out on this self-empowering presentation to help you develop a growth mindset!
*** Refreshments will be available before and after the presentation ***
For more information, contact WomeninSTEAM.WCC@gmail.com.