Art Opening: Angle / Edge / Plane, The Sculpture of Ronald Bladen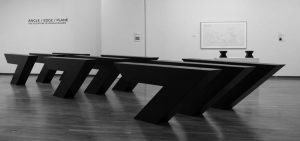 A SUNY WCC Art Gallery Exhibition
When: Opening event is September 8, 2022, from 4 to 6 p.m.
Exhibition will run from September 8, 2022 – November 30, 2022
Location: SUNY WCC Art Gallery, Hankin Academic Arts Building, Valhalla Campus
This fall, The WCC Art Gallery presents Angle / Edge / Plane, The Sculpture of Ronald Bladen (1918-1988), on view from September 8, 2022, through November 30, 2022, with a public opening on September 8 from 4-6 pm. Ronald Bladen was an American painter and sculptor renowned for his large-scale sculptures. On exhibit are scale models of Bladen's larger work, accompanied by hand-drafted engineering drawings.
As a painter, Bladen lived the life of the "Beat Generation," befriending the likes of Jack Kerouac, Henry Miller, and Allen Ginsberg. In sculpture, he was "regarded as an artistic forerunner by Minimalists like Donald Judd, Sol LeWitt, and Carl Andre." In 1966 Bladen exhibited the work Three Elements in the seminal exhibition organized by The Jewish Museum, Primary Structures: Younger American and British Sculptors, often cited as the exhibition that introduced minimal art to the public. While Bladen's sculptures share minimalism's simplified and industrial look, the works have an expressive underpinning separating his practice from minimal art. He "was too much the romantic poet to be a pure Minimalist."
Ronald Bladen (July 13, 1918 – February 3, 1988) was an American painter and sculptor. He is particularly known for his large-scale sculptures. His artistic stance was influenced by European Constructivism, American Hard-Edge Painting, and sculptors such as Isamu Noguchi and David Smith. Bladen in turn had a stimulating effect on a circle of younger artists including Carl Andre, Donald Judd, Sol LeWitt and others, who repeatedly referred to him as one of the 'father figures' of Minimal Art.
For more information, visit the art gallery website at www.wccartgallery.com or contact joseph.morris@sunywcc.edu.