A Reading and Conversation with Donna Hemans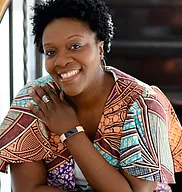 Date: Friday, October 22, 2021, from 12 p.m. noon to 2 p.m.
Location: Online, attend via Zoom
Meeting ID: 812 0162 7664
Passcode: 609629
Donna Hemans is the author of Tea by the Sea and River Woman. Born in Jamaica, Donna is the winner of the Lignum Vitae Una Marson Award for Adult Literature, and Tea by the Sea was also selected for the National Reading Group Month 2020 Great Group Reads List. She's the owner of DC Writers Room, a co-working studio for writers based in Washington, D.C.
This event is free and open to the public.
This event is part of the WCC Humanities Institute's 2021-2022 series of lectures, films, and other presentations, which has been made possible in part by a major grant from the National Endowment for the Humanities and several generous donors. Any views, findings, conclusions, or recommendations expressed in this event or this series do not necessarily represent those of the National Endowment for the Humanities.