Professional Bookkeeping with QuickBooks Online
(Continuing Education/Non-Credit)
Bookkeeping and QuickBooks Online Training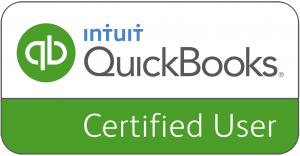 Learn Bookkeeping with QuickBooks Online
Regardless of the industry, all businesses can benefit from using QuickBooks to organize in their finances, stay on top of invoices, pay bills on time and track expenses efficiently. This 100% online course will teach you how to use QuickBooks Online for basic accounting, recording income and expenses, and entering checks and bank transfers. Once you complete this course, you will understand how to get your finances in order and be prepared for the QuickBooks Certified User Exam.
Master QuickBooks Online to prepare for a rewarding career in the booking field. You will learn basic bookkeeping and accounting principles, including the types of accounting information you, the business owner, manager, bookkeeper, or accountant, need to monitor. You'll then put all those principles into practice using QuickBooks Online to enter and track your finances with ease. With this online version, you get all the advantages of computing in the cloud so that your files will be available to you virtually anytime, anywhere.
This course will give you hands-on experience using QuickBooks Online to manage your business' finances—from recording income and expenses to entering checks and bank transfers to setting up a chart of accounts. You'll see how to reconcile your checking account and manage credit card and loan payments; create and print invoices, receipts, and statements; track your payables, inventory, and receivables; create estimates; generate reports; and much more. Once you complete this course, you will understand how to get your finances in order and be prepared for the QuickBooks Certified User Exam.
What you will learn
Successfully set up a company file in QuickBooks Online.
Perform fundamental analysis of accounts, financial documents, and reports.
Perform essential bookkeeping duties and tasks.
Apply basic accounting principles (accrual method, depreciation, and so on) to bookkeeping practices.
Understand fundamental accounting concepts and how QuickBooks works to support these concepts.
How you will benefit
Gain confidence in your ability to use QuickBooks to perform bookkeeping tasks for any company
Use basic, intermediate, and advanced features of QuickBooks Online proficiently
Prepare for the QBCU Exam
Externship starter kit
Introduction to Bookkeeping
Accounting Basics
Getting Started With QuickBooks Online
The Chart of Accounts
Centers and Lists
Bank Accounts
Recording Expenses and Paying Bills
Credit Cards and Loans
Sales Receipts
Invoices, Estimates, and Customizing Sales Forms
Billable Expenses and Customer Credits
Sales Taxes and Reports
Midterm Exam
Product and Service Items
Managing Inventory
Managing Projects and Sales
Progress Invoicing, Late Fees, and Bad Debts
Payroll
Fixed Assets and Loans
Business Entities and Owner Transactions
Banking Rules, Receipts, and Budgets
Adjusting and Reviewing the Books
Starting a Bookkeeping Business
Your Career Roadmap: The Job Search and Future Opportunities (Optional Lesson)
Communication and Organization (Optional Lesson)
Final Exam
Requirements:
Hardware Requirements:
This course can be taken on either a PC or Mac.
Software Requirements:
PC: Windows 10 or later.
Mac: macOS 10.6 or later.
Browser: The latest version of Google Chrome or Mozilla Firefox is preferred. Microsoft Edge and Safari are also compatible.
QuickBooks Online (Free 1-year subscription and practice site included in enrollment.) An additional subscription or software purchase for QuickBooks Online is not required to complete this course. However, please note that this course is only suitable for the QuickBooks Online version.
Microsoft Word or equivalent.
Software must be installed and fully operational before the course begins.
Other:
Email capabilities and access to a personal email account.
Instructional Material Requirements:
The instructional materials required for this course are included in enrollment. The following textbooks will be shipped to you approximately 7-10 business days after enrollment:
Bookkeeping for Dummies, 2nd Edition, by Lita Epstein, MBA
QuickBooks online software

Your enrollment in this course includes a free 1-year full subscription to QuickBooks Online. You will learn how to access and activate this subscription in one of your assignments.
Prerequisites:
This program is designed to prepare you for an entry-level position as a full-charge bookkeeper. You do not need any prior experience or training in this field.
Wade Lindenberger is a CPA with over 20 years of financial accounting and management experience in public accounting and private industry. He is currently Director of Finance and Administration for New Children's Museum. Before his current position, he worked as the National Finance and Accounting Service Line Leader for Premier Alliance Group, a national professional services firm. Wade was also Director of the Finance and Accounting service line for the San Diego office of a global, publicly held professional services firm. Before becoming a consultant, Wade was Divisional Controller for one of the leading health and fitness club chains in the world. He has also been Internal Audit Manager and Divisional Controller for a division of a Fortune 500 global energy project management company. He began his career with Coopers & Lybrand, a predecessor to PricewaterhouseCoopers, one of the "Big Four" CPA firms. He has previously served as an instructor for courses at Coopers & Lybrand and UC San Diego. He is currently an adjunct professor at the University of San Diego School of Business. He is a member of the American Institute of Certified Bookkeepers' Advisory Board.
Helene K. Liatsos is business advisor and QuickBooks Certified Advisor with more than 25 years of experience. She consults for a range of companies, from travel agencies to startups. Her company Home Office Management Experts was awarded the 2004 Home-Based Business of the Year by the U.S. Small Business Administration. Helene holds a Bachelor of Arts from Fairleigh Dickinson University.
Does this course prepare for a certification?
Yes. You will be prepared for the Intuit QuickBooks Certified User (QBCU) exam upon completion of the course.
Do I need a degree to become a bookkeeper?
You do not need an advanced degree to become a bookkeeper. According to the Bureau of Labor Statistics, you will need to have your high school diploma or equivalent to pursue a career as a professional bookkeeper. Many bookkeepers get started with an online course like this Professional Bookkeeping course. However, in order to stay competitive and open up even more job opportunities down the road, you may want to think about earning an associate degree in bookkeeping or accounting at some point in your career.
Is a bookkeeper the same as an accountant?
Not exactly. There are five major parts to the accounting process and they include: recording, interpreting, classifying, analyzing, and reporting financial information. Bookkeeping is the first, foundational part of the accounting process — recording financial transactions. However, bookkeeping is a great first step into an accounting career and with additional education, you use this as a way to gain experience and become an accountant in the future.
What is the average salary of a bookkeeper?
According to the U.S. Bureau of Labor Statistics, the most recent media pay for bookkeepers was $41,230 annually. However, bookkeepers can increase their earning potential through years of experience, certification, or starting your own bookkeeping business.
Are bookkeepers in demand?
According to the Bureau of Labor Statistics, there are a lot of jobs for bookkeepers, and the job outlook is expected to remain relatively constant through 2026. Understanding how to efficiently use bookkeeping software like QuickBooks will make you a more desirable candidate as more and more businesses turn to technology to perform basic accounting tasks.
What kind of hours do bookkeepers work?
Most bookkeepers work 40 hours per week, though some do work part time. As a professional bookkeeper you may need to work overtime during certain periods of the year such as closing out the fiscal quarter and/or year as well as during tax season.
How do I become a bookkeeper?
To become a bookkeeper, you need a background in accounting and specialized knowledge in payroll and taxation. You can gain this knowledge through a course or on-the-job training in an accounting department or working underneath an experienced bookkeeper. You will also need to gain experience with bookkeeping software.
Where do bookkeepers work?
Most bookkeepers work in an office environment during typical 9 to 5 hours and spend a large amount of their time in front of a computer. As a professional bookkeeper, you will usually be working alone but may have a few people from other areas of accounting that work alongside you. It is even possible that you could work remotely from home for one or more organizations at a time.
Do bookkeepers do the taxes for a company?
No, bookkeepers do not do company taxes. Taxes are done by an accountant. However, bookkeepers play an important role in making sure that financial transactions are recorded in a timely and accurate manner. This ensures that the financial information for a company is easy to read and use once it is time for an accountant to take over and do the taxes.
Can I register for courses if I am an international student?
Yes, ed2go courses are completely online. However, keep in mind that not all certifying bodies or industry-specific certifications are recognized internationally. Please review your country's regulations prior to enrolling in courses that prepare for certification.
When can I start this course?
This course is open enrollment, so you can register and start the course whenever you are ready. Access to your course can take 24-48 business hours.
How long does it take to complete this course?
After you register, you will receive 6 months to complete the course. The time allotted for completion has been calculated based on the number of course hours.
What if I don't have enough time to complete the course within the time frame provided?
If you are unable to complete the course, contact your Student Advisor to help you work out a suitable completion date. Please note that an extension fee will be charged. If you are funded through a third-party organization, approval may also be required.
What kind of support will I receive?
The course instructor will be available by email to answer any questions you may have and to provide feedback on your performance. Occasionally, your course may be supported by a team of industry experts. You will also be assigned a Student Advisor for academic support.
What happens when I complete the course?
Upon successfully passing the final exam, you will be awarded a certificate of completion from the school or organization that you registered through.
Am I guaranteed a job?
ed2go courses will help you gain the skills you need to obtain an entry-level position in most cases. However, you should always research the job market in your area before enrolling.
Can I get financial assistance?
ed2go courses are non-credit, so they do not qualify for federal aid, FAFSA, and Pell Grant. In some states, vocational rehab or workforce development boards may provide funding to take our courses. Additionally, you may qualify for financial assistance if you meet certain requirements. To learn more about financial assistance.
How can I get more information about this course?
If you have questions that are not answered on our website, representatives are available via LIVE chat. You can also call us at 1-877-221-5151 during regular business hours to have your questions promptly answered. If you are visiting us during non-business hours, please send us a question using the "Contact Us."
About ed2go