Interim Assistant Dean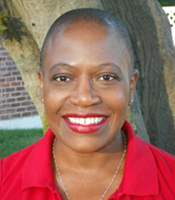 Andrea "Kelli" Higgs, J.D.
Interim Assistant Dean of Learning Initiatives and Success
Coaching Connection
Library, second floor, Room 212
Andrea.Higgs@sunywcc.edu
914.606.7238
Andrea Kelli Higgs, J.D. works with the 2017 League for Innovation Award winning team of Completion Coaches and co-chairs Westchester Community College's Developmental Education Advisory Council. She brings extensive program and project management experience to WCC while serving as a Major Effort Director for the Perkins Grant, administered by the New York State Education Department, and the James & Mary Wallach Foundation. She drafted and submitted the grant proposal that led to the award of a $281,000 SUNY Performance Improvement Plan grant in the Diversity, Equity, and Inclusion category. And, she provides support for the Achieving the Dream Initiative and the CAPR Multiple Measures Study
Kelli holds a Juris Doctorate from the Jacob D. Fuchsberg Law Center at Touro College, B.S. from Old Dominion University, and professional certificates from Mercy College (Paralegal Studies), Westchester Community College (Project Management), and SUNY Purchase College (Social Media Marketing). She previously taught courses in the Paralegal Program at Westchester Community College (WCC) and Rockland Community College, and taught in the Graduate School of Business at Iona College. She also served as a Graduate Fellow for the NYS Assembly, Financial Literacy Coach for WCC's Center for Financial and Economic Education, columnist for the Westchester County Press, and a legal consultant for Fortune 100 firms.