Raymond Houston, Ed.D.C.T.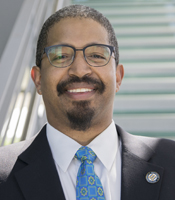 Contact Information:
Phone: 914-606-6789
Fax: 914-606-6545
Office Location: Technology Building, Room 106
E-mail: Raymond.houston@sunywcc.edu
Title: Dean of School of Mathematics, Science, and Engineering
Dr. Raymond Houston earned his B.S. in Applied Mathematics and Chemistry from the University of Pittsburgh, his M.A. in Curriculum and Instruction from Point Park University, and his Ed.D.C.T. in Mathematics Education from Teachers College, Columbia University.
Dr. Houston has over 19 years of experience in higher education. At previous institutions, he has served as a Coordinator of Mathematics & Science Tutoring, a Coordinator of Developmental Mathematics, and a full-time lecturer.
Dr. Houston has been a part of SUNY Westchester since 2010. Prior to transitioning to the role of Dean in 2018, he held a tenure-track position in the Mathematics Department, and served as adjunct coordinator, assistant department chair, and department co-chair.