Alassane Ngaide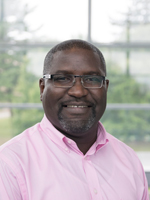 Contact Information
Name: Alassane Ngaide
Phone: 917-606-8565
Office location: Technology Building /Room # 153
Email: Alassane.ngaide@sunywcc.edu
Title(s): Instructor
Department/Division: Mathematics
Degree Information:
M.A., Mathematics- Queens College CUNY (2018)
B.S., Computer Engineering Technology- New York City College of Technology CUNY (2015)
A.S., Electro-M Engineering Technology- New York City College of Technology CUNY (2012)
Courses Taught:
Math 92 Prealgebra
Math 93 Beginning Algebra
Math 99 Quantitative Reasoning
Math 117 College Quantitative Reasoning
Math 135 College Algebra with Trigonometry
Honors and Awards:
Valedictorian class 2015, New York City College of Technology 06/2015
Awarded National Science Foundation Scholarship (NSF- STEM) 2012 – 2015
Awarded Robert NOYCE Teacher Scholarship NSF-STEM 2014 – 2015
Member of the Honor Scholars Program of NYCCT 2010 – 2015
Member of National Society of Collegiate Scholars 2010 – 2015
Publications and Presentations:
Co-authored: Methodology for an Open Digital Forensics Model Based on CAINE
2015 IEEE International Conference on Computer and Information Technology
Alassane Ngaide received his Bachelors of Science in Computer Engineering from New York City College of Technology, and his Master's in Pure Mathematics from Queens College New York. Before joining Westchester Community College, he taught at different colleges within the City University of New York (CUNY). His professional background includes positions such as adjunct lecturer, workshop facilitator, and seminar leader at Brooklyn Educational Opportunity Center, New York City College of Technology and Baruch College. Additional to his instructional responsibilities including teaching a variety of mathematics and computer engineering courses, Alassane also taught summer immersion mathematics for incoming first-year students and returning students repeating developmental math for the SEEK and CUNY EDGE Programs. Alassane's pedagogical practices were instrumental in the completion rates of students successfully passing the CUNY entrance exam after taking his classes. He is a passionate educator who is committed to helping students achieve competency and excellence in all college levels mathematics. However, he is currently interested and devoted to working with students enrolled in developmental mathematics courses to help them gain a strong foundation that will facilitate their learning college-level mathematics courses and applications.