Anthony Scalea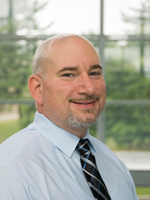 Contact Information
Phone: (914) 606-7881
Office location:  HSC 27
Email: Anthony.scalea@sunywcc.edu
Title(s): Instructor, Clinical Coordinator
Department/Division:  HCTAL/Radiologic Technology
Degree Information: M.A., Health Education and Promotion from Lehman College.
Courses Taught: RAD 112: Medical Terminology/Ethics and Law, RAD 203 Positioning III, RAD 2o7 Special Procedure Imaging
Mr. Scalea is the former Director of Diagnostic Imaging at St. Johns Riverside Hospital in Yonkers. He has been working at this hospital most of his career. He became interested in teaching when he served as a Clinical Coordinator for WCC early in his time at St. Johns. Since then, he has continued to work with students whenever the opportunity presents itself, including serving as an adjunct at WCC from 2016-17. He is eager to make a change from hospital administration to full-time teaching as he finds teaching rewarding and his administrative work increasingly less rewarding with changes in the industry. He holds a Masters degree in Health Education and Promotion from Lehman, a Bachelors in Radiological Sciences from Manhattan, and earned his Associate Degree in Radiologic Technology from WCC in 1998.