Maria E. Stalias Mantzikos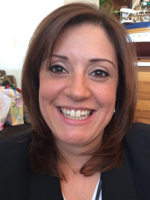 Contact Information
Phone: 914-606-6408
Office: Classroom Building  Room 39
Email: maria.stalias-mantzikos@sunywcc.edu
Title: Instructor
Department/Division: School of Arts, Humanities and Social Sciences
Degree Information:
PhD Cognitive and Health Psychology, De Montfort University, Leicester, UK
MSc Clinical Vocational Rehabilitation Neuropsychology, Touro College, Bay Shore, NY
MA Psychology, Queens College, CUNY, Flushing, NY
BA Psychology/Biology, Hofstra University, Hempstead, NY
Courses Taught:
Psych 101 General Psychology
Psych 107 Social Psychology
Maria holds a doctorate in Cognitive and Health Psychology from DeMontfort University in England, a Masters in Rehabilitation Neuropsychology from Touro College and a Masters in Psychology from Queens College. She has over a decade of adjunct teaching experience at several of the CUNY colleges, including Lehman, College of Staten Island, York and Queens. In addition, she teaches as an adjunct at Mercy College, where she received recognition for her adjunct teaching in 2018. Aside from her knowledge of psychology and clinical psychology, she is a methodologist, with experience teaching quantitative methodologies and experimental design. She has also supervised several undergraduate and Master's student thesis.