Karen Taylor, Ed.D.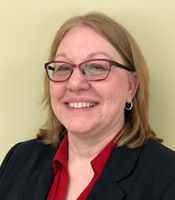 Dr. Karen Dyrbala Taylor has an extensive history in both attending and working at community colleges.  She is a graduate of Genesee Community College (GCC) in Batavia, NY.  She then completed her baccalaureate degree in English at Utah State University and her MS in Education/TESOL at Nazareth College of Rochester, NY.  She returned to her community college alma mater, GCC, teaching English Composition and ESL classes for over 15 years, rising to the rank of Full Professor.  In recognition of her instructional expertise, Dr. Taylor was awarded the State University of New York Chancellor's Award for Excellence in Teaching.
While continuing her teaching, Dr. Taylor pursued her Ed. D. in Higher Education Leadership from the University of Rochester, Rochester, NY.   Dr. Taylor subsequently honed her administrative skills as Associate Dean of GCC's Lakeville Campus Center, Associate Dean of the Advisement and Records Office at GCC, and then Associate Vice President of Instruction and Assessment at Finger Lakes Community College.
Dr. Taylor has multiple experiences in Middle States Assessment, program review, and working with faculty to enhance curriculum and developing new academic programs. She has served on SUNY committees for diversity, applied learning, and prior learning assessment.
As Dr. Taylor has said, "Supporting the mission of the community college and its students has been the greatest reward in my career."
Contact information
Phone: 914-606-6949
Office Location: Hankin Academic Arts Building, Room 509
Email: karen.taylor@sunywcc.edu
Title: Dean of the School of Arts, Humanities, and Social Sciences