December 2018 Completion Celebration
Date: Thursday, December 13, 2018
Time: 4:00 pm
Location: Main Campus, Physical Education Building, Gymnasium
Parking Available in Lots 8, 9, and 10
2018 Completion Celebration Highlights
See the video and photo gallery from last year's celebration
The 2017 Completion Ceremony celebrated the achievements of the August and December
candidates for graduation from Westchester Community College.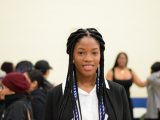 Interested in seeing photos from
the 2017 Completion Ceremony?
Click the photo to the left
to visit our photo gallery…
If you have any questions or concerns about the Completion Celebration,
please contact the Department of Student Involvement
at (914) 606-6731, getinvolved@sunywcc.edu,
or visit us in the Student Center, Room 108.