Art Gallery
The Art Gallery at Westchester Community College is located on the third floor of the Hankin Academic Arts Building, across from the theatre. It is open Monday through Saturday 10:00 am – 3:00 pm, and Thursday evenings 4:00 – 6:00 pm. Exhibitions and receptions are free and open to the public.
---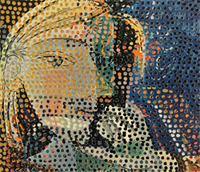 JOEL CARREIRO – Picassoid
MONDAY, JANUARY 27 through FRIDAY, FEBRUARY 28
New York City-based artist Joel Carreiro has built an extensive body of work inspired by art history. Using Pablo Picasso's art reproductions from textbooks and magazines as his source material, he copies, enlarges, and cuts the images into smaller pieces, then assembles them into mosaic-like collages that transform the familiar into something new.
Join us for a reception on Saturday, February 1 from 4 – 6 pm.
---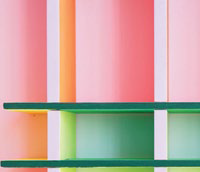 CHIAOZZA – Color Gathers Space
MONDAY, MARCH 16 through FRIDAY, APRIL 17
CHIAOZZA, the collaborative studio of Adam Frezza & Terri Chiao, explores play and craft across a variety of mediums. Experimenting with vibrant color relationships, iconic shape-making, and perspectival movement in the design of painted wooden structures and large environmental works, the duo's work straddles fields of painting, sculpture, design, and architecture.
Join us for a reception on Friday,  April 3 from 4 – 6 pm.
---
VIRTUAL JURIED STUDENT EXHIBITION, SPRING 2020 
An exhibition of selected student works from Art & Design curriculum classes features drawing, painting, sculpture, photography, graphic design, and digital media.
View Here:  https://www.wccartgallery.com/
---
Gallery Hours:
Monday – Saturday 10:00 a.m. – 3:00 p.m.
Thursday 4:00 p.m. – 6:00 p.m.
---
Exhibitions and receptions are free and open to the public.
Stay up-to-date on events happening at the gallery by:
Visiting our website
Following us on Instagram
---
Contact Information
Phone:  914-606-6835
Email:  sarah.mills@sunywcc.edu