Message from Dr. Belinda S. Miles: Giving Thanks – November 25, 2020

November 25, 2020
Colleagues,
Collectively, we have endured so much over the past several months. Throughout the year, I never wavered in my belief that, together, we would pull through – and pull each other and our students through. Amidst a sea of uncertainties, we always found something to celebrate, something that made us stop and think, "yes, we've got this!"
As we prepare to experience a Thanksgiving that may feel unlike any in the past, I hope you find opportunity to reflect on what is most meaningful to you and on the people and things for which you feel gratitude.
I am thankful that I can lead such a talented, dedicated, and committed workforce who do so much every day to help our students succeed. I am thankful for the support we receive from our donors and the leadership of our Board of Trustees. I am thankful for our alumni who help us to promote the value of Westchester Community College and the opportunities that are available to our students.
In these challenging times, I am thankful for the work of our Pandemic Response Team whose collaborative teamwork helps keep our college community safe and healthy.
I am thankful to our students who have chosen Westchester Community College and who have overcome so much this year. Their journeys are oftentimes more difficult than any of us can imagine and yet, they show up. I am thankful to our faculty and staff who do the same – you show up and you bring your best to the college every day.
I am thankful to our community partners who believe in Westchester Community College and our students. Their support is invaluable and increases our capacity to do our work and create even more opportunities for students.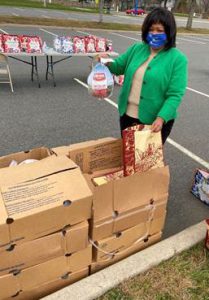 I am especially thankful to those who step up when we need volunteers. Yesterday, I had the pleasure of joining close to 30 members of our college community – Foundation Board members, employees from across the college, students, plus members of the Westchester County (NY) Chapter of The Links, Incorporated, on campus to distribute 250 turkey dinners along with trimmings to students and their families. Kudos to our safety and facilities team members who skillfully managed screening, traffic flow, and other logistics that added to the success of this event.
It was inspiring to see the college community, as well as community partners, come together in this meaningful way to support our students and fight food insecurity many of them face. This is even more poignant as we support and encourage students who are continuing to endure during the public health crisis caused by the global pandemic, persistent unemployment, and housing instability.
We are so grateful to our community partners whose generous support helped to make this event a success: DeCicco & Sons; ShopRite, and The Westchester County (NY) Chapter of the Links, Incorporated. Special thanks to the WCC Foundation for all they do for the college and for our students, Student Involvement, and especially Sophia Pineiro and Dr. Rachele Hall for ensuring that this Thanksgiving tradition continued during this very challenging time.
Associate Dean Adam Frank conveyed our collective gratitude so perfectly, and I extend this sentiment to all of you who do so much for students and help to honor our traditions and all that we value.
"I am so thankful to get to work with Student Life Team members like Sophia and Rachele. Their collective passion to support our students is unparalleled… Their attention to detail, organization, and student-first attitude not only enabled us to carry on this tradition, but they found a new and improved model to bring it to life!"
Thank you all for being a part of such a dynamic institution that truly does build minds and build futures.
Wishing you and your loved ones a safe and enjoyable Thanksgiving.
Dr. Belinda S. Miles
President