President's Forum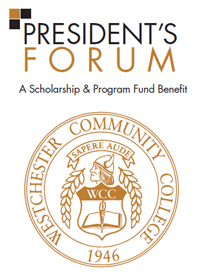 About the Event
The annual President's Forum, held in the fall on the college's beautiful campus in Valhalla, NY, focuses on important public issues such as the media, foreign affairs, the economy, and education. We are proud to have had prominent guests such as President Clinton, Secretaries of State Henry Kissinger and Madeleine Albright, former Chairman of the Federal Reserve Paul Volcker, journalists Paul Krugman and Paul Gigot, in addition to many others. The funds raised support the Foundation's Scholarship and Program Fund.
Registration
To register online, click here or complete the reply card and mail to the address below:
President's Forum
Hartford Hall
75 Grasslands Road
Valhalla, NY 10595
Fax: 914-606-6515
WHERE ARE WE NOW?
Sunday, November 11, 2018
Just days after the midterm election and almost two years of the current administration, this year's event "Where Are We Now?" will examine what is happening with immigration, foreign relations, education, the judiciary, the economy, and more. What can we expect in the future? There will be opportunity for questions from the audience.
Event Details
Sunday, November 11, 2018
Pre-Event Luncheon
Time:  12:00 to 2:15 pm
Location: The Gateway Center
Panel Discussion
Time:  2:30 to 4:30 pm
Location: The Hankin Academic Arts Auditorium
Reception to follow
Location: Fine Arts Gallery
Moderator
BRIAN LEHRER
Host of The Brian Lehrer Show, WNYC Radio's daily call-in program covering politics and life, locally and globally. Lehrer has been recognized with numerous awards, including seven Associated Press New York Broadcasters "Best Interview" Awards.
Panelists
JOHN BERMAN
Co-anchor of "New Day" on CNN. He has a 23 year career in journalism at ABC News and CNN. Part of coverage teams that have received an Emmy, Edward R. Murrow award and James Beard Award.
ARI FLEISCHER
Former White House Press Secretary & Spokesperson for President George W. Bush, Fox News Contributor, and President of Ari Fleischer Communications. He is the bestselling author of Taking Heat.
DR. CHRISTINA GREER
Associate Professor of Political Science and American Studies at Fordham University. She is the author of Black Ethnics: Race, Immigration and the Pursuit of the American Dream and frequent political commentator on MSNBC and NY1.
DOUGLAS HARRIMAN KENNEDY
National correspondent for the Fox News Channel for the past 22 years, covering crime, politics, and social issues. He has reported extensively on civil liberties, as well as technology and culture, recently completing a ground breaking series, Douglas Kennedy's American Stories.
DOUGLAS SCHOEN
Former pollster and adviser to President Bill Clinton. Founding partner and former principal strategist at Penn, Schoen and Berland, and founder and current principal of Douglas E. Schoen LLC. He is a regular op-ed contributor to Wall Street Journal, The Hill, & Fox News. He is the author of 16 books.
ALEXIS GRENELL
Alexis Grenell is the co-founder of Pythia Public, a political strategy and public affairs firm where she works on issue campaigns and policy for both elected officials and non-governmental actors/organizations. Grenell writes about gender and power in the New York Daily News, and her work has appeared in the New York Times, the Washington Post, the Nation, Newsday, the New York Post, the Daily Beast, City & State, and El Diario.
The 2018 President's Forum is supported by: