Culinary Couple
Dine out while staying in. Learn to cook an outstanding dish (or two) without so much as pulling out a paring knife. Let Heather and Scott Fratangelo, pastry chef and chef, respectively, of their charming Ardsley restaurant, L'Inizio, guide you through the construction of an outstanding meal.
Rated a top restaurant by Westchester Magazine, L'inizio offers a seasonal, Italian-inspired menu featuring locally-sourced ingredients. If you haven't yet been to the Fratangelos's special place, allow us to explain: The food is fresh and delicious. Heather and Scott will let us in on their secrets; showing each step of select recipes, and sharing professional shortcuts, insider tricks and tips. We'll discover, or for some of us rediscover, why Heather's motto "Life is short, eat dessert first!" is dangerously true, as she prepares one of her irresistible sweets. (We promise not to tell anyone if you eat the dessert before the event starts.) Interactive Q&A to follow.
In addition, we will hear from Tom Deacon, the owner of Fable, who will showcase what life is like on his Ossining farm including sustainable practices, free-ranging animals, and how he and his team partner with local restaurants and small businesses.
Taste and learn along via Zoom while enjoying a fully prepared three-course meal for two, paired with a bottle of wine from Wine Enthusiast, along with other goodies including an item from LGH Candle Co. Packages are $150 (for two) and will be hand delivered to your front doors (in Westchester and nearby Fairfield County) prior to the event.
Register by March 5th to be sure to have your MREs (haha) in time.
Vegetarian and vegan options are available upon request. As always, if you are not able to view the live event, a recording will be sent later that evening.
In support of our partners at L'Inizio, a portion of your ticket price will underwrite the cost of the meals. Please consider making an additional contribution to help our WCC students during this difficult time. All funds raised from this event benefit our student scholarship fund or on-campus food pantry.
Thank you – our students depend on you now more than ever!
L'inizio Menu
Appetizer – Bibb Salad
bibb salad, toasted hazelnut, gouda cheese, cara cara orange, shallot vinaigrette
Entrée – Chicken Scarpariello
chicken sausage, potato, cherry peppers, escarole
Dessert – Apple Hand Pie
Vegan option – Cauliflower Steak Scarpariello
cauliflower, potato, cherry peppers, escarole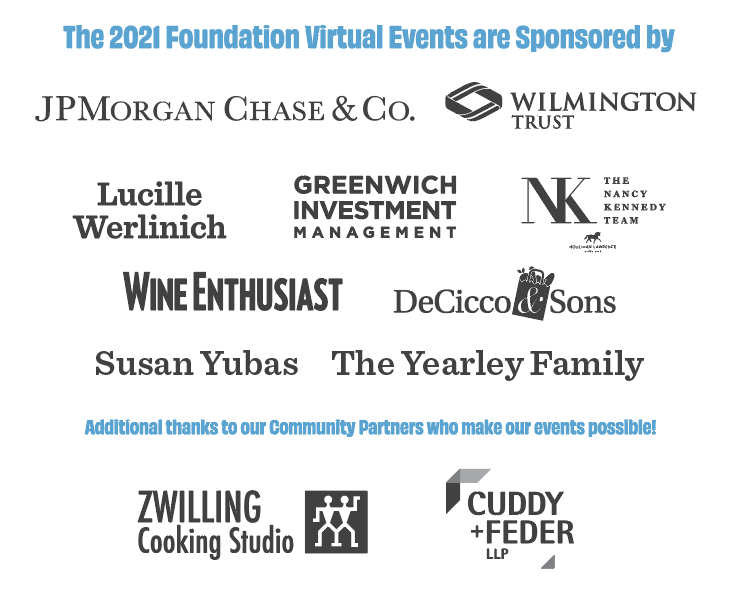 Questions?
Contact Sue Mackey, Director of Special Events at (917) 548-7417 | sue.mackey@sunywcc.edu
Westchester Community College Foundation
Hartford Hall
75 Grasslands Road
Valhalla, NY 10595

The Westchester Community College Foundation was established to meet College and student needs that are not met by public funds. In its 50-year history, the Foundation has awarded almost $25 million in scholarships to more than 18,500 students.
Past Events
Mindful Moments - January 19th, 2020
Virtual Wine & Cheese Event - June 25th, 2020
Pints & Pies Event - September 30th, 2020
Melissa Clark Event - October 15th, 2020