Nicholas Singh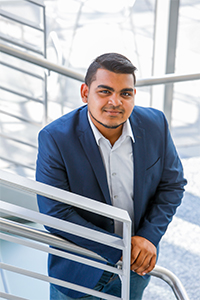 I migrated to the United States in the beginning of 2016, from the twin islands of Trinidad and Tobago, where I obtained my high school education. I also pursued a deep passion of mine through the Trinidad military. I enrolled in the Trinidad and Tobago Cadet Force for my entire secondary school duration (6 years) where I became proficient in Navigational Skills and Field Exercises.
Upon moving to the United States, I took the Test Assessing Secondary Completion (TASC) exam for which I am currently being considered for "Student of the Year'' for the county of Westchester. In my first semester enrolled as a student of WCC, I obtained a grade point average (GPA) of 4.0. During the semester I also became a member of WARY 88.1, the student radio station, which has a segment specializing in Caribbean music.
In my second semester, I became a member of Phi Theta Kappa Honor Society, an international honor society of two-year colleges. Here I was voted into the position of Vice President of Membership. I was also elected into the position of Student Trustee, an Executive Board position in the Student Government Association (SGA). Additionally, I am a voting member in the SGA Senate. I represent the student body as a member of the Board of Trustees and report to the Program and Planning Committee. My main objective while holding these positions is to encourage the holistic development of all students. I believe in helping them achieve excellence by providing a suitable environment and giving them a voice. I am confident in my ability to build the bridge between simply "working" and then "making a difference" that I see present in all students.
I am currently pursuing my associate degree in Engineering Science, which I have high hopes of completing with honors and moving on to a four-year college where I would like to obtain my bachelor's degree in Civil Engineering, then my master's degree in Structural Engineering. Ultimately, I would like to establish an engineering firm in the United States and travel to third world countries to help expand their infrastructure.