Lijing Xu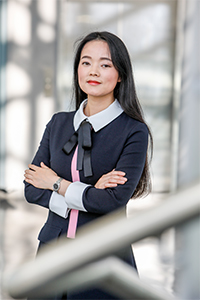 This is my second year at Westchester Community College and I really like the slogan, "Building Minds. Building Futures." Because the college is not only a place for studying, it is also a place where I can learn the truth of life and who I want to be.
My parents have always taught me to try my best to help others by doing small things. And that is what I have been doing as I have matured and as a member of the Westchester Community College community. I am a member of Volunteer New York and worked with the Westchester Community College Foundation to run a community garden to help other hunger-relief partners. I helped organize events such as the Asian Cultural Food Festival. I participated in Blood Drives. I truly enjoy such activities and I feel that it is making me a better person every day.
Though I grew up in an economically struggling family in central China, I have never given up my dreams. After Westchester Community College, I plan to attend a college such as SUNY Stony Brook for a Computer Science degree. I hope that I will be able to use my education to help improve people's lives through the field of environmental monitoring and protection, or through technological innovation in the healthcare industry.