Elsimar Quijada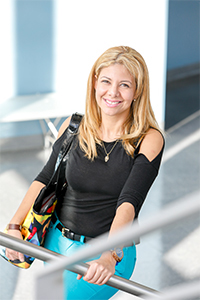 When I went through a difficult time in my life, I remembered the words of wisdom my father used to tell me, "Elsi, having a degree is the only thing that is going to ensure your future, nothing else. Earn a degree and no one can ever take it from you." I realized my next step was to go back to school and obtain my degree to offer a better future for my children and my family. I wanted to teach them that achievements require hard work and dedication.
I am an Accounting major and I feel really passionate about this field. I'm excited that by next year, I will attend a four-year school to obtain my bachelor's degree and become a Certified Public Accountant. I would like to work for one of the big four companies in the accounting field.
It has not been easy. It has taken a lot of effort and dedication, as well as many hours away from my children, to achieve these goals. The help from my parents and the understanding of my children help me and give me that extra push I need to continue every day.