ResearchPath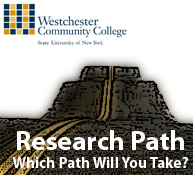 ResearchPath is the library's online, interactive research tutorial designed to introduce students to the general concepts of college research as well as meet the information literacy recommendations of Middle States.
To enter Research Path, go to the Blackboard Log In page and scroll down to Course List. Click on Research Path. 
To learn more, contact Beth Seelick at 606-8529 or beth.seelick@sunywcc.edu.