Classroom Information Literacy Instruction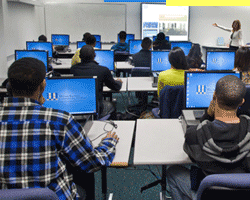 Library Homepage > Information Literacy Instruction > Classroom Information Literacy Instruction
As part of its Information Literacy Program, the Harold L. Drimmer Library at Westchester Community College offers course-integrated information literacy instruction. In accordance with the major learning outcomes of the Information Literacy Program, librarians can assist students with developing a successful research topic, locating information on that topic, evaluating information quality, or synthesizing sources into a research project.
If you would like to schedule information literacy instruction, please fill out our Information Literacy Instruction Request Form. A librarian will contact you to discuss the learning outcomes for your session.
Meeting Students at their Point of Need
Our information literacy instruction is specifically tailored to each classes' research needs. Student retention of information literacy skills is most successful when librarians can work with faculty and students to develop the specific research skills students will need to successfully complete their research assignments.
Timing of the Session
It is important to schedule instruction at a time that coincides with the stage of the research process the students will be at during their information literacy session. It is best to schedule at keast ten days in advance if the session. This will allow librarians to effectively prepare for the session. It is also important to ensure that students have been given and understand the requirements of the assignment prior to the day of the library session.
Successful Collaboration
In order to best serve our students, librarians will collaborate closely with course instructors to determine the specific learning outcomes for each session. Toward this end, it is important that librarians are sent course assignments prior to the session in a timely manner. This will provide a productive learning environments four our students.
For further information, contact Beth Seelick at beth.seelick@sunywcc.edu; 606-8529.