Orientation Leader/Peer Advisor Program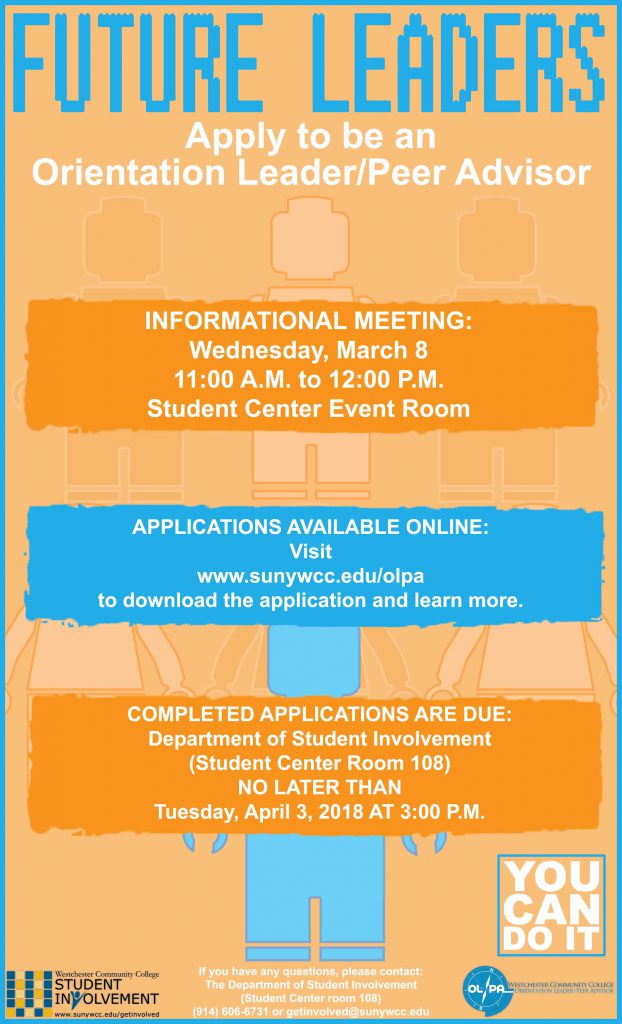 The Orientation Leader/Peer Advisor (OL/PA) position is a very unique experience that creates a strong, tightly bonded group of student leaders at Westchester Community College. By becoming an OL/PA, students get to widen not only their networks, but develop leadership and other transferable skills that can be used throughout their academic and professional careers.
OL/PAs are vital to the process of planning, preparing, and executing New Student Orientation. They will help new students learn about the campus community by creating a welcoming and informative environment as they serve as host and guide for new students during their day-long introduction to academic and student life at the college.
To prepare for this role, OL/PAs attend a three-day, two-night team-building retreat and participate in a week of training. During these unique experiences, a strong, tightly bonded group is formed, often creating lifelong friendships and memories.  OL/PAs will also gain leadership and mentoring experience as they acquire practical and valuable skills and knowledge that can be used in the classroom, throughout their lives, or in their future careers.
Applications are now available. Click here to download an application for Summer 2018.
To learn more about the Orientation Leader/Peer Advisor (OL/PA) program, keep checking this page or contact the Department of Student Involvement at 914-606-6731, getinvolved@sunywcc.edu, or visit us in Student Center Room 108.