News
Westchester Community College President Joseph Hankin announces retirement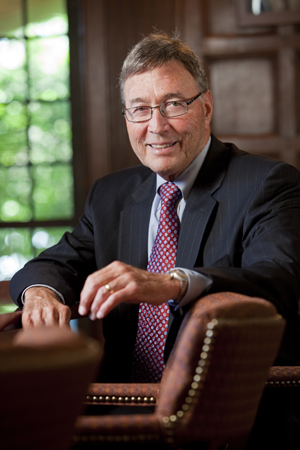 The nation's longest serving community college president, Westchester Community College President Dr. Joseph Hankin, who has led the State University of New York institution since 1971, has announced his retirement.
It can truly be said that Dr. Hankin is Westchester Community College. His work ethic and visionary leadership have resulted in one of the nation's finest community colleges and the largest and most successful educational institution in the county of Westchester. But his influence goes beyond programmatic changes and brick and mortar improvements. It also has to do with his positive influence over the people of Westchester Community College. Through example and leadership, he has inspired others to do their best on behalf of the college.
"For the past 42 years, it has been my honor to serve the Board of Trustees, administration, faculty, staff, student body, and residents of
Westchester County in the position of President of Westchester Community College. The accomplishments achieved over the past four decades have been realized because of the joint effort of a team of individuals," he said at today's annual State of the College address to faculty, staff and administrators. "I am now announcing my retirement. The Board of Trustees has granted me a leave of absence from January 1, 2014 through December 31, 2014." During the leave, Dr. Hankin will assist the trustees in the college's search for a new president, and will assist in the college's visibility and outreach efforts in addition to other projects related to the development and refinement of programs and services to meet the needs of the college.
A Search Committee will be formed and a national search for a permanent successor will take place. A national search firm will be hired to assist in the search. The search may last a full year. An Interim President will be named after the Board of Trustees confers with the Board of Trustees of the State University of New York.
In accepting Dr. Hankin's retirement, Westchester Community College Board of Trustees Chair Timothy Carey discussed the significance of this news. "Dr. Hankin has been the 'soul' of the institution and his achievements have spanned decades. We are pleased that he will be assisting in the transition to a new President," he said.
"For more than 40 years, President Hankin has led Westchester Community College with the highest level of distinction, fostering productive and impactful connections with students, faculty, and staff on campus and elevating the college's presence and partnership with the local community,"
said SUNY Chancellor Nancy L. Zimpher. "The college will be forever defined by President Hankin's tenure, and his many contributions to SUNY and to New York State throughout his leadership will benefit generations to come," she said.
"Dr. Hankin has compiled an amazing record of leadership at the county's largest educational institution," said Westchester County Executive Rob Astorino. "It has been an honor to work with him to ensure that the residents of the county have all the educational resources needed to improve their lives, whether it is to take classes to earn a degree, train for new careers, or take a non-credit course for self-improvement. I am proud of our community college and I want to acknowledge Dr. Hankin's role in expanding and improving the institution over more than forty years," he said.
"Dr. Hankin has built the college into one of the nation's leading educational institutions," said Ken Jenkins, Chairman of the Westchester County Board of Legislators. "His efforts over the decades have affected thousands of lives, as students of all ages have sought out new beginnings, challenges and dreams with the help of Westchester Community College. For those many students who have relied on their local community
college for the education and training they have needed to reach their academic and career goals, they can surely thank Dr. Hankin for his leadership and vision," he added.
Dr. Hankin was named the leader of this SUNY college in 1971 and the transformation of the institution was almost immediate. Following through on his suggestions proposed during his interview process (opening the campus to the community, expanding academic programs, repairing infrastructure, etc.), he immediately moved forward to begin the rejuvenation of the college. Although relatively new to the role of president (having previously served as president of Maryland's Harford Community College for four years), Dr. Hankin immediately began his four-decade mission toward a commitment to quality, accessibility, affordability, and expansion.
His first task was to further cement the ties between the president's office and the faculty, a relationship that is the lifeblood of all successful colleges. Working together with full-time professors and instructors, along with adjuncts, he immediately expanded their opportunities for professional development. After consulting with them and administrators, he worked to jointly review and refine various academic policies. For the students, he initiated an academic support system which encouraged them to use new advisory and educational services, thus ensuring classroom success. He met with administrators to update numerous procedures, discussed with staff members their role in supporting the mission of the institution, and began his tenure as one of the most highly visible individuals in the county.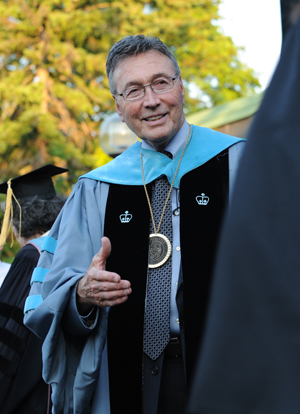 Dr. Hankin was a significant member of the team that expanded the Westchester Community College Foundation, which has raised millions in support of faculty and staff (training and education), students (millions have been raised for scholarships with more than $1 million distributed annually), academic programs (providing seed money through private donations and grants), and infrastructure (raising money for new buildings including the recently opened Gateway Center). The growth and evolution of this financial support entity has been critical to the success and
expansion of the institution.
When addressing his impact, one might consider what the stature of the college, now respected on a national level, would be without his involvement. Without this stellar leader, we would still have a Division of Continuing Education, but would it be the largest in the entire SUNY system?
Undoubtedly, the main campus in Valhalla would not be the only place where classes would be held, but would we have courses on the main campus plus five large freestanding hub sites (Peekskill, Ossining, White Plains, Yonkers, and Mount Vernon)? Would we still also offer courses at
more than 100 other locations throughout the county? Would thriving cultural arts, Native Plant Center, and volunteer programs flourish here?
So looking merely at a partial list of achievements from one random time period during "The Hankin Era," we can see the huge influence he has had over the college. Multiply that by four (he has served for more than four decades), and one begins to realize the overwhelming scope of his influence. But looking at these achievements alone tells only part of the story. Any successful administrator can point to concrete improvements, timely expansions, and deft changes in direction and mission that revitalize an organization. But a truly transcendent leader's tenure also may speak to less apparent achievements that may not make it to the tally sheet. We can see the tremendous impact Hankin has had by looking at the most recent decade. In addition to opening several new extension centers during this time, he oversaw the expansion of the Harold L. Drimmer Library and Learning Resource Center which doubled in size. In addition, he opened Gateway (a 70,000-square-foot landmark structure designed by the renowned Ennead architectural firm to provide educational resources for thousands of students). During the same decade, the college dramatically expanded its online learning options, added a dozen new academic programs, and instituted the Collegium, a resource for mature learners interested in serious study and social exchange. Simultaneously, the college reached record enrollment figures for both credit and non-credit study.
Facts about Dr. Hankin 
During his time at Westchester Community College, the college's faculty and professional staff have received more SUNY Chancellor's Awards for Excellence than any similarly-sized institution.   At age 26, Dr. Hankin became the nation's youngest college president when he assumed leadership of Harford Community College in Maryland.
Under Dr. Hankin, the college launched its highly regarded Honors Program in 1987.
His support of the expansion of the Continuing Education Division has resulted in tremendous growth. It is now the largest such program in the state of New York.
Dr. Hankin's various efforts to educate immigrants and new citizens have resulted in the expansion of the English as a Second Language Program. More than 4,000 individuals now learn English language skills at the college (approximately 45,000 over the past eleven years).
Dedicated to active student life, the college president has encouraged the expansion of student clubs. There are now more than seventy student clubs.
Under his leadership, the college has expanded its resources for mature adults, and now offers classes through Mainstream, the Institute for Mature Adults, and Collegium, which offers high level educational options for lifelong learners.
Thanks to the addition of new buildings on the main campus and an expansion throughout the county (the college now has five freestanding extension hub sites), students learn in more locations than ever before. In fact, Honors students now study in Cambridge, England each summer.
An early proponent of online learning, Dr. Hankin's support of distance education has resulted in a rapid expansion in this area. The college has offered hundreds of online classes over the years.
Dr. Hankin is the longest serving community college president in the nation.
Dr. Hankin holds seven degrees (four honorary).
Dr. Hankin is the recipient of over 100 honors and awards.
He has been named one of the Top Fifty Community College Leaders in the Nation.
Dr. Hankin has been named one of the Most Effective College Presidents in the United States.
Dr. Hankin's mission to expand upon the college's educational offerings has resulted in many new academic programs. There are now more than sixty academic programs offered at the college.
Corporate training is now one of the college's strengths. The Professional Development Center, which began in 1984, has trained and educated thousands of individuals.
Each semester, the college holds classes for more than 20,000 credit and non-credit students.
In May 2013, Dr. Hankin addressed a record number of graduates at the college's commencement ceremony. 1,550 students received their degrees on that day.
Under his leadership, the college has expanded upon the opportunities for professional development for faculty and staff who expand their knowledge by attending conferences and workshops in-person and online.
Encouraged by the president's interest in supporting students, the Westchester Community College Foundation has raised millions of dollars for scholarships; more than $1 million is now distributed annually.