News
Teaming up with MasterCard
Responding to the changing demographics and economic opportunities in our county, Westchester Community College has launched a new pilot program to help encourage business development for new Americans. Supported by a philanthropic grant from the MasterCard Center for Inclusive Growth, Entrepreneurship for New Americans is a pilot program that will offer immigrant entrepreneurs workshops on topics ranging from understanding legal aspects of starting a business, access to credit, English language through the college's English Language Institute, and more.
Data compiled by the Kauffman Index shows that immigrant business development rose sharply in 2010 and continues to rise, with Latino and Asian immigrant business start-ups growing the fastest. However, immigrants face numerous barriers to starting a business, from access to credit to language and cultural differences. There are limited resources available in Westchester County that meet the needs of immigrant entrepreneurs, and Westchester Community College's Gateway to Entrepreneurship program (G2E) has a unique opportunity to offer programming that fills this gap.
"At MasterCard, we are committed to connecting people and communities with opportunity and believe in the power of entrepreneurship as a path to full financial inclusion. We are excited to partner with the college on this pilot program," says Patricia Devereux, Executive Director, MasterCard Global Philanthropy.
The G2E program is dedicated to supporting entrepreneurial education throughout the college and our community. Through its collaborations with partners, both the public and private sectors, G2E is a resource hub for entrepreneurial development at all stages, facilitating programs that respond to entrepreneurs' needs and contribute to a vibrant local economy.
"Westchester Community College has always been about accessibility. We are committed to student success, academic excellence, workforce development, economic development and lifelong learning," says Dr. John F. M. Flynn, Westchester Community College Interim President. "Partnerships in our community with business leaders, neighborhood non-profits, and other organizations serving our diverse populations, have played a vital role in achieving these goals, and we are proud to have the MasterCard Center for Inclusive Growth supporting this important initiative," he adds.
For more information on the college's G2E program, please click here.
About The MasterCard Center for Inclusive Growth
The MasterCard Center for Inclusive Growth was created to foster collaborative relationships between academia, governments, nonprofits, the social design community, and the private sector. Through the advancement of research and strategic philanthropic investments, the Center will support and enable those historically excluded from financial services and serve as a catalyst for change. http://www.mastercardcenter.org/
Westchester Community College is the largest college in Westchester County, providing accessible, high quality and affordable education to meet the needs of a diverse community. The college is committed to student success, academic excellence, workforce development, economic development, and lifelong learning.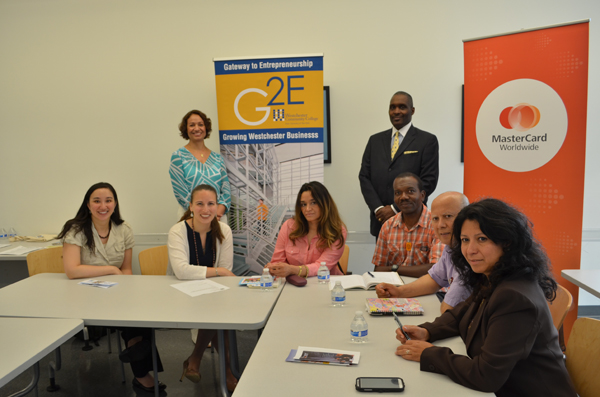 Pictured:  Eridania Camacho, Director, Gateway to Entrepreneurship and Westchester Community College Professor Scorpio Rodgers, (standing), are joined by MasterCard's Elizabeth Liu, Program Manager, and Monica Chaves, Senior Program Officer, Global Philanthropy (seated, left), and students in the college's new Entrepreneurship for New Americans program.