News
M&T Bank establishes new scholarship for students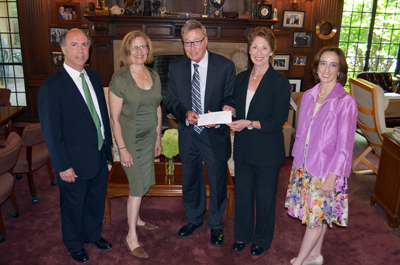 M&T Bank recently granted $2,500 to Westchester Community College Foundation to establish a new scholarship fund. The M&T Bank Scholarships will be awarded to students enrolled in business curricula who demonstrate community involvement, academic achievement, and financial need. The first recipients will be chosen for the Fall 2013 semester.
Presenting the donation were Steve Cavazuti, Vice President for Government Banking, and Paula Mandell, Regional President. "At M&T Bank, we believe in education, in supporting local students, and investing in our community," said Mandell. "As a regional bank that is growing in Westchester County, we understand the important role Westchester Community College plays in the local economy by developing the regional workforce and helping students improve their lives," she added.
Accepting the donation, Dr. Joseph Hankin, President of Westchester Community College, said "The college has always been about accessibility. Through the work of our Foundation, we have been able to award over $1.2 million in scholarships each year to students whose lives have been transformed through the power of education. We are proud to join forces with M & T Bank to make the dreams of a college education a reality for our worthy students."
Westchester Community College provides accessible, high quality and affordable education to meet the needs of our diverse community. We are committed to student success, academic excellence, workforce development, economic development and lifelong learning.