News
Cambridge Summer Study Abroad Program 2017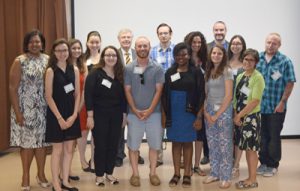 The Cambridge Summer Study Abroad Program, an educational opportunity for Honors students enrolled at Westchester Community College, is now in its 15th year.
170 students have been selected since 2003 to study for two weeks in July at the prestigious Cambridge University in England. This year's group of 13 students includes those studying Liberal Arts, Business, and Nursing.
Meeting with the faculty member teaching either Cambridge Studies in History (Honors), Cambridge Studies in Literature (Honors) or Cambridge Studies in Science in January, the students develop an individual learning plan of activities before, during and after Cambridge.
During the Spring semester, the students also participate in seminars to orient them to living and studying at Cambridge University.
Competitive scholarships to help defray the cost of the program are available through the Westchester Community College Foundation.
After flying from JFK airport in New York to Heathrow Airport in London, the students live in single rooms in one of the Colleges at Cambridge taking their breakfast and dinner each day in the College Hall. In the living and dining facilities, as well as in their classes, the students will meet other students from all over the world who have come to study at Cambridge. The distinguished faculty for these courses and plenary lectures are from Cambridge University, from other Universities in Britain, the Commonwealth, and the European continent.
During the two week program, the students will function on a daily basis learning about the customs, currency and culture of this foreign country.
Two Westchester Community College faculty members (usually two of the three teachers of the college's Honors courses) accompany the students. One brings the group over and remains with them for the first week. The second arrives later, assumes the responsibility of mentoring the students, and returns with the students on the group flight on the day after classes end. While at Cambridge the faculty members visits the classes of the students and confers with other accompanying and teaching faculty from the across the world. More than a dozen Westchester Community College faculty members have served as mentors at Cambridge over the years.
Dr. John F.M. Flynn, Director of the Cambridge program, notes that "the most frequently used term by the returning students about the program is that this experience was 'life changing'. It combines rigorous academic study with independent travel abroad and the opportunity to meet other students from all over the world."