News
Achieving the Dream Reform Network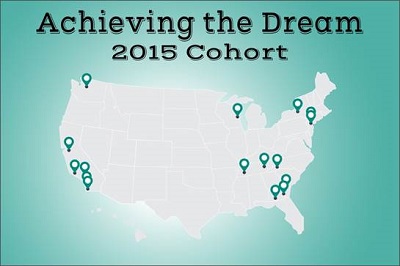 Westchester Community College has joined fifteen other community colleges in joining the Achieving the Dream Reform Network which focuses on methods to increase student success and completion rates. Achieving the Dream today welcomed colleges from eight states with faculty, staff and administrators from those institutions participating in the 2015 Achieving the Dream Kickoff Institute in Cincinnati, Ohio.
"To become an Achieving the Dream College, applicants must demonstrate an institution-wide commitment to spend at least three years working with Achieving the Dream experts to implement reforms designed to improve student success and completion rates on their campuses. Such a huge commitment to fundamentally rethink educational and student support is unusual and should be applauded because their work will result in a much larger, better educated, and productive workforce," said Achieving the Dream President and CEO William E. Trueheart.
"Our new affiliation with Achieving the Dream, Inc. will give our institution a wonderful opportunity to build upon existing student success efforts. As a member of this network, our staff and administrators will be empowered to work together with the Achieving the Dream team on increasing our student engagement, learning, and completion outcomes," says Dr. Belinda S. Miles, President, Westchester Community College.
By 2020, almost two thirds of all jobs will require education and training beyond high school, according to a report by Anthony P. Carnevale, Georgetown University Professor and Director of the University's Center on Education and the Workforce. Recovery, Job Growth and Education Requirements through 2020, recently cited by Bill Gates and other education leaders, found that unless the US begins producing more college graduates, there will be a shortfall of 11 million skilled workers to fill those jobs.
The Achieving the Dream 2015 Cohort is joining a network of over 200 colleges that are working to preserve access and assure that their students, especially low-income students and students of color, achieve their goals for academic success, personal growth, and economic opportunity.
At the 2015 Kickoff Institute, which began on June 23 and concludes on June 25, the sixteen colleges will work in teams with coaches to increase their data analytic capacity to inform decision-making; understand how guided pathways can improve the student experience; identify opportunities to improve teaching and learning; and understand equity challenges on campus.
The 2015 cohort represents the first colleges in the Network to begin using the new Institutional Improvement Model to advance student success. The Model, composed of the Institutional Capacity Framework and the Continuous Improvement Cycle, provides practical guidelines for maintaining focus on students' needs and building momentum over time. Throughout the process, Achieving the Dream coachesoffer customized support, and numerous peer learning opportunities to accelerate the adoption and adaptation of evidence-based, high impact practices.
In addition to using the new model, the 2015 Cohort will benefit from Achieving the Dream's agreement with the National Student Clearinghouse (NSC) in which colleges' data on key student success outcome measures will be extracted from student data already being submitted to NSC. The change responds to requests by Achieving the Dream Institutions for a more streamlined data reporting structure.
"We are delighted to welcome the 2015 Cohort colleges into the Achieving the Dream National Reform Network and congratulate them for taking this next step in operationalizing their commitment to improving student outcomes," says Achieving the Dream Vice President for Community College Relations Cindy Lenhart.
Achieving the Dream, Inc. is a national nonprofit leading the nation's most comprehensive non-governmental reform network for student success in higher education history. The Achieving the Dream National Reform Network, including over 200 institutions, more than 100 coaches and advisors, and 15 state policy teams – working throughout 35 states and the District of Columbia – helps more than four million community college students have a better chance of realizing greater economic opportunity and achieving their dreams.
Westchester Community College, part of the State University of New York system, is the largest educational institution in Westchester County. It grants more than sixty associate degrees and certificates, with classes offered on the 218-acre main campus in Valhalla and at extension locations throughout the County of Westchester.