Student Activities
Y.A.C (Yonkers Activity Council)
Student Club in Yonkers Extension Center
The Y.A.C is the primary source for student events and activism at the Yonkers Extension Center. It is a great leadership learning tool, provides experience with teamwork and communications. We celebrate different cultures with our events, and overall students come first!
History
The Yonkers Activity Council started in 2014 with the help of Joseph Cooke. The main mission of council is to enrich student's extracurricular experience while at the college. Since 2014, the council has become a great extracurricular activity for students and have helped them learn and stay connected with the college.
Mission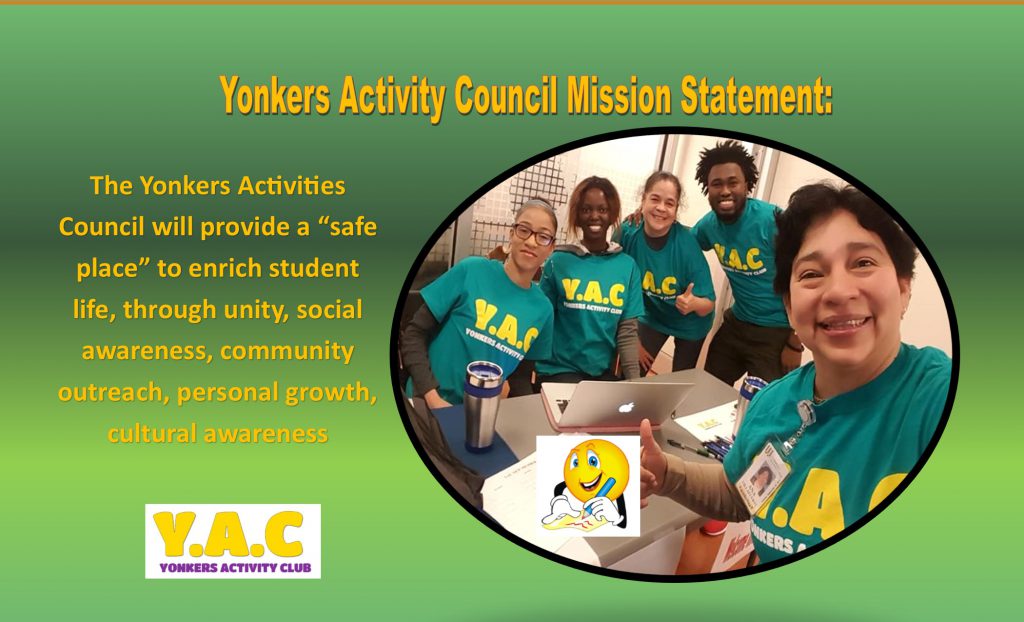 Awards
Key Award "For making consistent and outstanding contribution to the College community by exemplifying characteristics of quality leadership, service, and personal development."
Donald Weigand Club Advisor Award "For providing consistent support to club members, empowering student officers to take ownership over their organization , and creating co-curricular environments that foster students learning and success."
Ana Maria Villafuerte 2017-2018
Future Events:
Recruiting new members on Wednesday, January 24th, 2018 from 11:00 AM to 1:00 PM
Welcome Back Y.A.C on Wednesday, January 31st, 2018 from 11:00 AM to 1:00 PM
March 21st Delicious Breakfast with Y.A.C. Free food and music. Sponsor by Y.A.C.
Where: Room 226 Time: 11:00Am to 1:00PM
March 28

th

Y.A.C. is celebrating International Women's DAY with M.V.A.C Mount Vernon Activity Club. There will be delicious refreshment and free transportation round trip. Sign in sheet at the front desk.
Departure time: 11:00 AM Returning time 12:45 PM
April 4th Community Forum Event,"The Future of Education and the Workforce"Meet Westchester Community College's President, Dr. Miles and Provost, Dr. Vanessa Morest
Where: The Wyatt Hotel in Cross County Mall Time: 11:00 AM to 1:00 PM
Light Refreshments will be served
April 18th A test of Asia, Come join Y.A.C for the Asian Pacific Islander Heritage Month with delicious free food, soft drinks, music, and a lot of fun! Where: Student Lounge Time: 11:00 AM to 1:00 PM


Applications must be filled out in order be a member.
Join the Yonkers Activity Council.
Ways to stay updated on Y.A.C Social Media: