Student Activities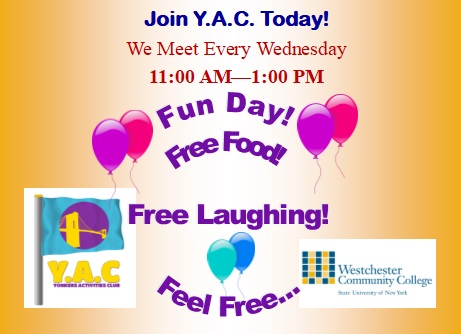 The Y.A.C is the primary source for student events and activism at the Yonkers Extension Center. It is a great leadership learning tool, provides experience with teamwork and communications. We celebrate different cultures with our events, and overall students come first!
Applications must be filled out in order be a member.
Future Events:
Learn about the many benefits available to students on Wednesday, October 11, 2017 from 11am to 1pm.
Mix and mingle with college recruiters  on Wednesday, October 18, 2017 from 11am to 1pm. Sponsored by the Yonkers Activity Council.
Free Transportation will be available on Wednesday, October 25, 2017. Sponsored by Office of Services.
Sign up at the front desk.
Mt. Vernon & Yonkers Cross County
1) Pick-up at Mt. Vernon by 11:00am
2) Pick-up at Yonkers Cross County by 11:00am
Join the Yonkers Activity Council.