RUSSIAN STRING ORCHESTRA – Around the World in 18 Stops
Strings are strummed with the strains of classics!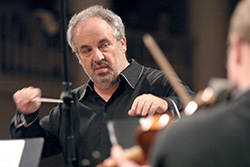 Performances take place in the Academic Arts Theatre.
Sunday, February 5 – 3:00 pm
Comprised of some of Russia's finest young string players, this ensemble has carved a niche under the creative baton of its founder and music director Misha Rachlevsky. Its warmth and high energy create addictive performances of world masterpieces that stay with listeners long after the last note has been played. "…The vitality and expressiveness the players spontaneously poured into this work made it a jewel." (The Washington Post)
Tickets are $22 (general admission), $20 (non-WCC students/seniors/fac-staff), and $16 (children under 13) and free for WCC credit students with ID.
Click here for order form or click on the image below to order tickets online.
Series subscription: $38 (See this show and ARIEL STRING QUARTET (Israel) for a $6 savings!)
**For more information, please contact the Office of Cultural Affairs at (914) 606-6262.