MAGIC OF MOTOWN
Take a musical trek around the iconic sounds of past and present.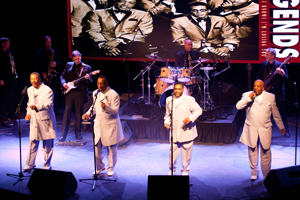 Performances take place in the Academic Arts Theatre.
Saturday, April 22 – 8:00 pm
Motown's back with its era of unforgettable platinum recordings. This dynamic tribute spans more than a decade of classics where every song is culture-defining in pop music history. The show features the great harmonies and choreographed dance steps of the era, featuring a seven-piece back-up band. Relive or first experience such iconic music!
Tickets are $22 (general admission), $20 (non-WCC students/seniors/fac-staff), $16 (children under 13), and free for WCC credit students with ID.
Click here for order form or click on the image below to order tickets online.

Series subscription: $38 (See this show and GRANDE ROMANZA for a $6 savings!)
**For more information, please contact the Office of Cultural Affairs at (914) 606-6262.