Graduation Ceremony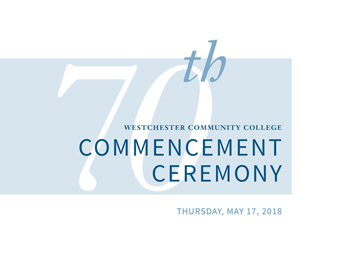 Westchester Community College
Commencement Ceremony
Thursday, May 17, 2018
6:00 pm at the County Center
198 Central Avenue
White Plains, NY.
To open the 2018 Commencement Program in another window, click here.
For more ceremony details visit the 2018 Commencement Ceremony page.
Commencement Day Information
The Graduation Ceremony will be held on Thursday, May 17, 2018 at 6:00pm at the County Center, located at 198 Central Avenue, White Plains, NY.
Graduates should plan to arrive at the County Center between 4:30 pm – 5:00 pm.  Upon arrival, graduates should proceed to the lower level of the building.
 Graduation procession will begin promptly at 5:45pm.
 Admission into the County Center for guests (non-graduates) will only be given to those with a Graduation Guest Ticket. 
Due to the limited parking and increased traffic in the area of the County Center, please include extra time in your travel plans in order to arrive safely and on time for the Ceremony. Parking is not free at the County Center and all graduates and their guests will have to pay a nominal fee.
---
If you have any questions or concerns about the Graduation Ceremony, please contact the Department of Student Involvement at (914) 606-6731, getinvolved@sunywcc.edu, or visit us in the Student Center, Room 108.